Regular price
Sale price
$30.00 USD
Unit price
per
Special
Sold out
We love all 917s but Porsche 917 Gulf and Porsche 917 LH Martini livery have a special place in our hearts. The Martini Porsche 917 #21 in this poster by Michal Wojtaszek is the first vehicle that breaches the 150 mph average speed at Le Mans. 
Porsche 917 LH #21 Martini - the record holder
The abbreviation LH stands for Langheck which is the German for long tail. The longer overall shape of the car makes it more stable at higher speeds. This is perfect for the long Mulsanne Straight in Le Mans.
"I fell in love with the 917 when I went to the auto show at Geneva in March [1969]. It was upon the pedestal, it was big and gorgeous, a wonderful car, and I immediately fell in love with it. I then started lobbying Piëch to have one for Le Mans," Vic Elford says in an interview. In the 1969 edition of Le Mans, he partners with Richard Attwood behind the wheel. 
Unfortunately, the car retires after racing for 21 hours straight and being at first place, six laps ahead of the second. The reason is split housing. A year later, the very same car is steered again by Elford but this time in a team with Kurt Ahrens. 
In the qualifications Ahrens sets the quickest time with 3:19.8 min. He averages 150.798 mph. This is a record which stands for several years. Unfortunately the 917 LH isn't able to finish again. This time because of inlet valve failure. Today, this car is part of the Porsche Museum Exhibition.
Porsche 917 LH #20 Gulf livery - the movie star
The Porsche 917 #20 with chassis No 024, covered with the Gulf racing colors is the car featured in the Le Mans movie by Steve McQueen. In it Steve McQueen crashes his Porsche 917 Gulf #20. In reality they used a Lola in Porsche clothing. Later he continues to race with Porsche 917 Gulf #21, in which he crosses the line to take second place after a wheel-to-wheel battle with his Ferrari rival.
View full details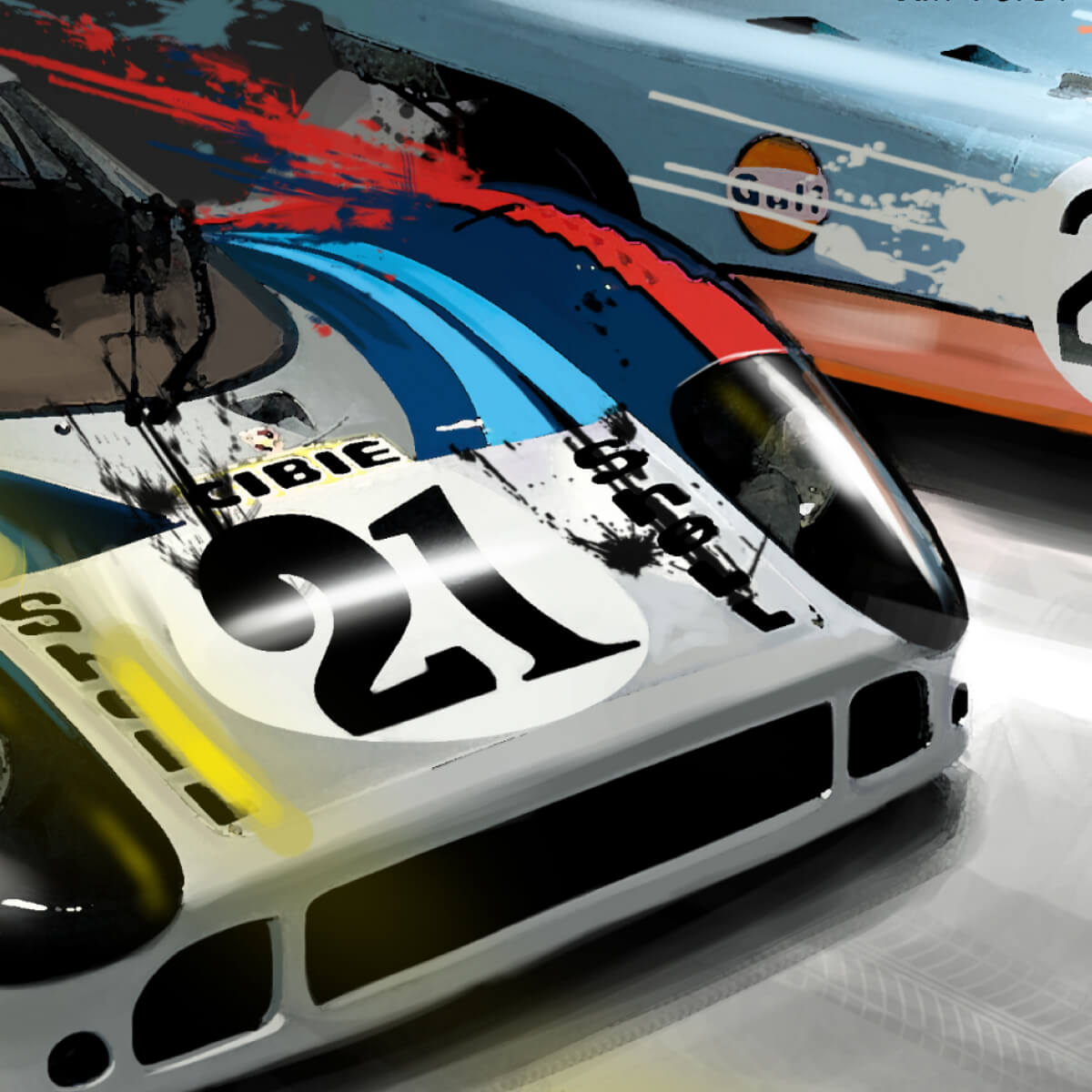 Marco De Toma
Marco De Toma, affectionately known as Deto, was born in Brazil and raised in Milan, Italy from the age of two. His love affair with cars began at the tender age of seven when his father introduced him to rally events. This early exposure ignited a passion that manifested in drawings and continued to grow. Later he pursued a degree in Transportation Design at IAAD in Turin.
During his university years, Marco ventured into illustrations, drawing inspiration from the thrill of speed and the dynamic use of colors. His artwork seeks to capture the very soul of sports cars, employing a vibrant spectrum to symbolize the fluid changes induced by velocity. While Marco holds a deep appreciation for the entire realm of transportation, vintage cars occupy a special place in his heart. 
Our prints
To meet our high-quality standards, we rely on the best available printing technology for Fine Art Reproductions and use the industry-leading printing machines made by EPSON.

Fine Art Print

310 gsm · 100% α-cellulose · genuine mould-made paper

Fine art prints are made on Hahnemühle German Etching - a white, 100% α-cellulose paper for archival standards. The mould-made etching paper features a distinct textured surface. With its premium matt inkjet coating German Etching meets the highest industry standards regarding density, colour gamut, colour graduation and image sharpness while preserving the special touch and feel of genuine art paper.

Hahnemühle German Etching® FineArt media

Clearly defined felt structure

Museum quality for highest age resistance

Certificate of Authenticity

Security Hologram Sticker

Photo Matt

180 gsm · matt-coated paper

Premium heavyweight paper, produced in Japan, at the highest industry standards with very good stability of the printed images. Particularly suitable for printing photorealistic quality images with intense colours and uniform matt.

Katana Photo Matt 180

Printed on EPSON SureColor P9000

UltraChrome HD 8-Color pigment ink
Frequently asked questions
How long does it take to ship?

Shipping times depend on your location and the shipping method chosen during checkout.

Standard shipping within the EU usually takes 3-7 business days, while air shipping may take longer, up to 10 work days.

Since our prints are made on-demand, production times can vary. On average, it takes about 2-3 business days for production.

What materials are used?

We use high-quality materials to ensure the best possible results.

For fine art prints, we use 285 gsm German Etching Hahnemühle art paper.

Poster prints are typically printed on durable, 180 gsm heavyweight paper with a slight satin finish.
What sizes are available?

Our art prints come in various sizes to accommodate different needs and display options. 

Popular sizes include 20x14 inches, 28x20 inches, and 40x28 inches. 

These prints tend to be on the larger side and are compatible with most ready-to-use frames.
What is your return and refund policy?

We provide a 60-day, no-questions-asked return policy for all print products, unless otherwise specified on the item. To be eligible for an exchange or refund, the products must be in the same condition as when they were received.

If you wish to initiate a return or exchange, please contact us via email. For more comprehensive information, please visit our dedicated Return Policy page on our website
Do you ship internationally?

Yes, we offer international shipping to many countries worldwide.


However, please note that shipping times and customs procedures may vary.
Can I track my order?

Absolutely! Once your print is shipped, you will receive a shipping confirmation email with a tracking number. You can use this tracking number to monitor the progress of your shipment and estimate its arrival date.