Regular price
Sale price
$30.00 USD
Unit price
per
Special
Sold out
A hand-crafted sports car with an 8-litre V10 capable of acceleration from 0 to 60 mph in less than 4 seconds with no ABS or traction control. This is the sports form in which Dodge Viper starts its life. It is a truly mean machine that just outperforms its opponents.
The Viper SRT10 is even more badass with its engine tuned up to 500 hp. It finally receives ABS brakes that prevent unskilled drivers from totalling the car immediately. Dodge Viper SRT10 is well-suited for club racing and autocross. It is also good at long-distance cruising and is capable of 80 mph in sixth gear at just 1600 rpm. This is accompanied by a low-gurgling V10 sound which can easily reach crescendo. Looks like the Vipre SRT10 can rip the asphalt with its tires.
The second-generation Dodge Viper keeps its predecessors' tradition. The SRT10 version comes with a 600 hp and a new 6-speed manual transmission. It has many improvements and is way more cultivated than the first release. 600 hp at the time is in the supercar zone.
Dodge Viper SRT10 can keep a stable speed of 250 km/h. There is no surprise that the SRT10 in ASR form breaks the record for the fastest mass-production car at the Nordschleife in Nurburgring with 7:12.13. This is good even for contemporary standards. Well, the car's capacity comes at a reasonable cost. The car is way more expensive than Corvette Z06 and is believed to be the most expensive car for repair works.
View full details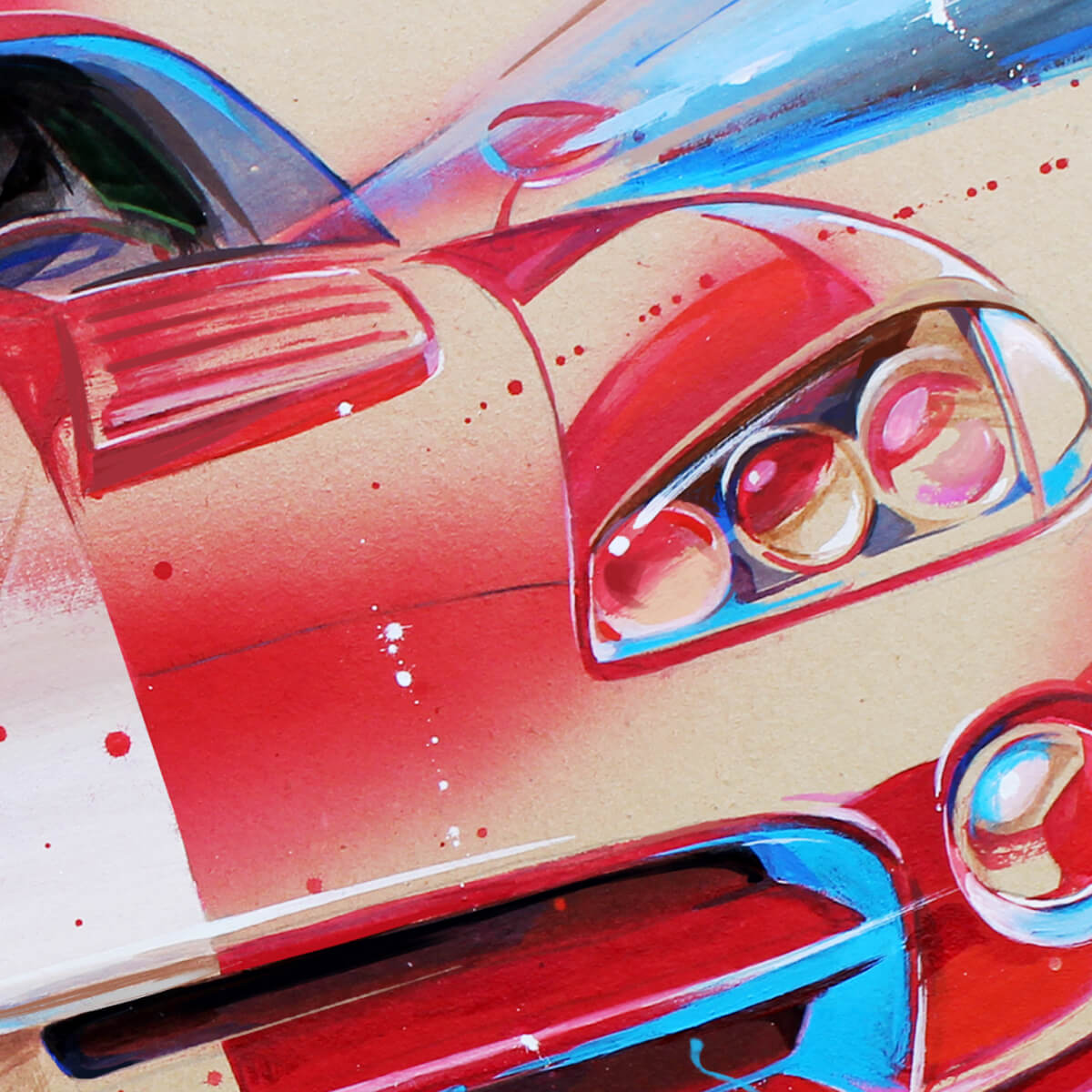 Ilya Avakov
Ilya Avakov, a talented artist holding a degree in Industrial Design from the Art Academy in St. Petersburg, initially embarked on a career in industrial design. However, his passion for drawing and illustrations soon led him to create digital artwork. Transitioning from the computer, he delved into genuine painting with acrylic, and currently, he primarily works with oil.
Inspiration for Avakov stems from both cars and the works of fellow artists. His creations have been featured in numerous print media, including magazines and books.
Our prints
To meet our high-quality standards, we rely on the best available printing technology for Fine Art Reproductions and use the industry-leading printing machines made by EPSON.

Fine Art Print

310 gsm · 100% α-cellulose · genuine mould-made paper

Fine art prints are made on Hahnemühle German Etching - a white, 100% α-cellulose paper for archival standards. The mould-made etching paper features a distinct textured surface. With its premium matt inkjet coating German Etching meets the highest industry standards regarding density, colour gamut, colour graduation and image sharpness while preserving the special touch and feel of genuine art paper.

Hahnemühle German Etching® FineArt media

Clearly defined felt structure

Museum quality for highest age resistance

Certificate of Authenticity

Security Hologram Sticker

Photo Matt

180 gsm · matt-coated paper

Premium heavyweight paper, produced in Japan, at the highest industry standards with very good stability of the printed images. Particularly suitable for printing photorealistic quality images with intense colours and uniform matt.

Katana Photo Matt 180

Printed on EPSON SureColor P9000

UltraChrome HD 8-Color pigment ink
Frequently asked questions
How long does it take to ship?

Shipping times depend on your location and the shipping method chosen during checkout.

Standard shipping within the EU usually takes 3-7 business days, while air shipping may take longer, up to 10 work days.

Since our prints are made on-demand, production times can vary. On average, it takes about 2-3 business days for production.

What materials are used?

We use high-quality materials to ensure the best possible results.

For fine art prints, we use 285 gsm German Etching Hahnemühle art paper.

Poster prints are typically printed on durable, 180 gsm heavyweight paper with a slight satin finish.
What sizes are available?

Our art prints come in various sizes to accommodate different needs and display options. 

Popular sizes include 20x14 inches, 28x20 inches, and 40x28 inches. 

These prints tend to be on the larger side and are compatible with most ready-to-use frames.
What is your return and refund policy?

We provide a 60-day, no-questions-asked return policy for all print products, unless otherwise specified on the item. To be eligible for an exchange or refund, the products must be in the same condition as when they were received.

If you wish to initiate a return or exchange, please contact us via email. For more comprehensive information, please visit our dedicated Return Policy page on our website
Do you ship internationally?

Yes, we offer international shipping to many countries worldwide.


However, please note that shipping times and customs procedures may vary.
Can I track my order?

Absolutely! Once your print is shipped, you will receive a shipping confirmation email with a tracking number. You can use this tracking number to monitor the progress of your shipment and estimate its arrival date.