Regular price
Sale price
$30.00 USD
Unit price
per
Special
Sold out
There are so many reasons to miss Lancia, but the Delta HF Integrale stands above them all. A compact and elegant hatch transformed into a bulging and road legal rally-derived monstrosity. This is what Lancia Delta HF Integrale was like. Its rally sibling brings Lancia to the hall of WRC's fame with 6 consecutive titles from 1987 to 1992, overshadowing like Audi Quattro and Mitsubishi Lancer EVO. Today, we are more than happy to share with you this beautiful Lancia Delta HF Integrale poster in yellow.
This Lancia Delta HF Integrale poster is screaming brightness
The story of Lancia Delta started back in 1979 when the car debuted as an elegant and classy yet straightforward family hatch. Though, its qualities and Giugiaro design were praised by the automotive journalists in Europe, which crowned it as the European Car of the Year. It wasn't most remarkable Lancia until 1986 when Henri Toivonen crashed and died in his Lancia Delta S4, one of the Group B rally beasts. It is what forced WRC to ban purposely built rally cars in favor of mass production-based rally racers. Right at that time, Lancia debuted Delta HF 4WD with 56:44 front to rear power distribution and 165 hp 2.0-liter turbo engine, good enough for 6.4 seconds acceleration from 0 to 60 mph. The rest is glorious rally history.
In its first rally season, Lancia Delta won 9 out of 13 competitions, taking both manufacturer and driver championship. And this was just the beginning. In 1987 Lancia Delta HF Integrale was developed with widened wheel arches to house wider tires just like Audi Quattro. But it was way better than its German competitor.
Lancia Delta HF Integrale was unbeatable on the rally course, but its mass-market presence was nothing less than spectacular. The consumer demand for the victorious vehicle resulted in almost 10 000 sales in just two years, twice more than the homologation minimum. And way more than Ford Escort RS Cosworth and Toyota Celica GT4 has sold.
Lancia Delta HF upgraded to Integrale 16V in 1989, distinctive by a bulge on its bonnet. The wheel arches were widened a little more, and a new Garrett T3 turbo was added into the equation for 200 hp in total. Lancia Delta displayed visible signs of aging with competitors like Celica GT4 and Impreza WRX on the rally stage. This is what made the Delta HF Integrale retirement inevitable. Interestingly, the consumer demand for the Lancia Delta HF Integrale was still significant, so the brand pushed its final version, the Integrale Evolution II – the only specification designed entirely for road usage. When the last Delta HF Integrale Evo II was delivered in late 1994, the whole Delta Integrale series scored more than 40 000 examples. Quite good for a niche family hatch, isn't it?
Today we are more than happy to share this Lancia Delta HF Integrale poster with you. Chris Hough beautifully designs it, and we make it available for you and your place at prices starting as low as $20. Because you know, we all need some Lancia Delta HF Integrale brightness in our lives, and this poster is delivering.
View full details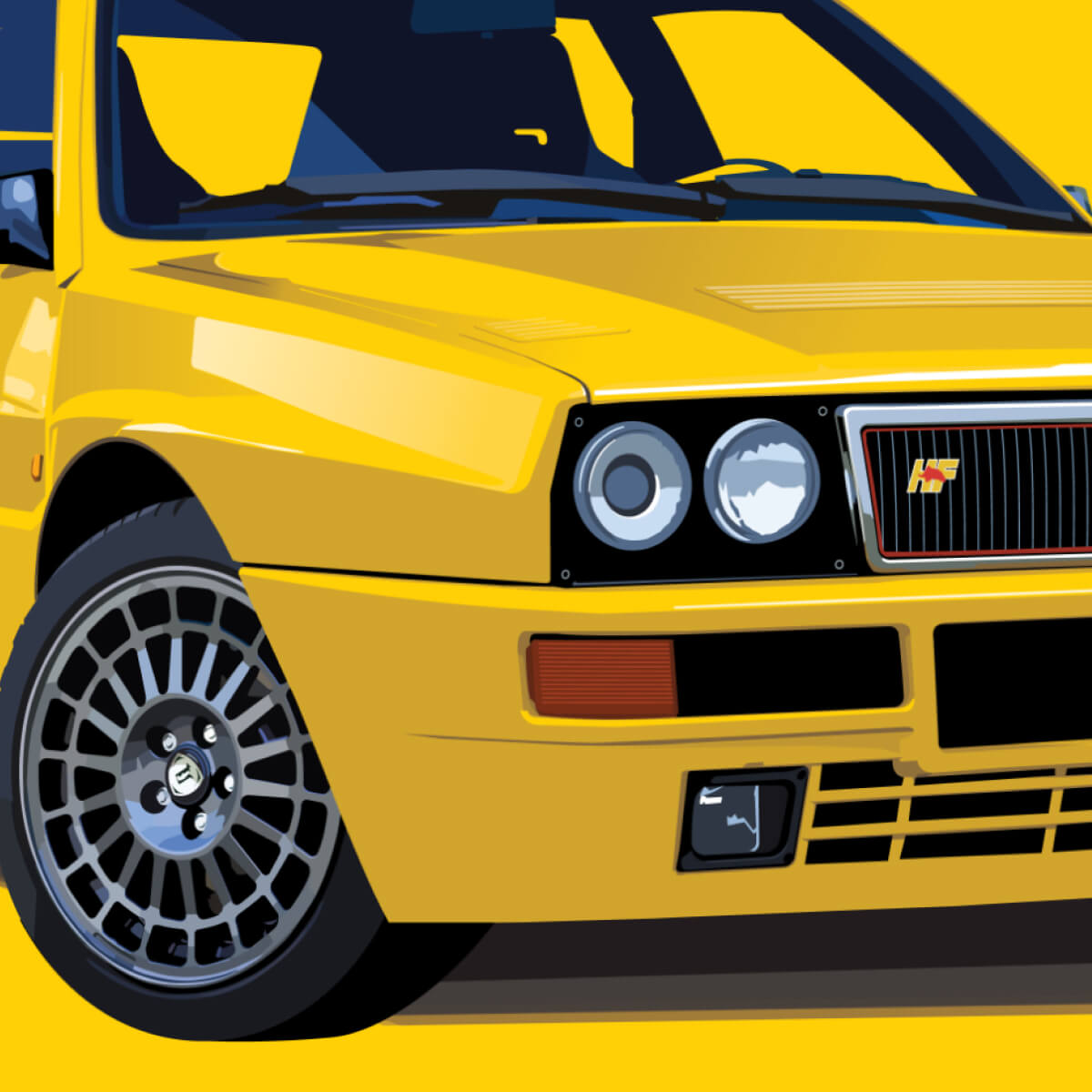 Chris Hough
Chris Hough, hailing from Birmingham, Motor City UK, shares a curious resemblance with products emerging from his birthplace in the seventies—beige, a bit reluctant in the mornings, and with a body that tends to deteriorate swiftly when neglected. His introduction to the automotive world came courtesy of a father who not only drove the family car too swiftly but also participated in rallying a Lancia in Africa, fostering a deep love for motorsport. Beyond his role as a full-time Graphic Designer and Illustrator, Chris dedicates his free time to crafting images of cars or indulging in high-speed motorbike adventures, often circling around in circles with exhilaration.
Vendor:

Regular price

From $30.00 USD

Regular price

Sale price

From $30.00 USD

Unit price

per

Vendor:

Regular price

From $30.00 USD

Regular price

Sale price

From $30.00 USD

Unit price

per

Vendor:

Regular price

From $30.00 USD

Regular price

Sale price

From $30.00 USD

Unit price

per
Our prints
To meet our high-quality standards, we rely on the best available printing technology for Fine Art Reproductions and use the industry-leading printing machines made by EPSON.

Fine Art Print

310 gsm · 100% α-cellulose · genuine mould-made paper

Fine art prints are made on Hahnemühle German Etching - a white, 100% α-cellulose paper for archival standards. The mould-made etching paper features a distinct textured surface. With its premium matt inkjet coating German Etching meets the highest industry standards regarding density, colour gamut, colour graduation and image sharpness while preserving the special touch and feel of genuine art paper.

Hahnemühle German Etching® FineArt media

Clearly defined felt structure

Museum quality for highest age resistance

Certificate of Authenticity

Security Hologram Sticker

Photo Matt

180 gsm · matt-coated paper

Premium heavyweight paper, produced in Japan, at the highest industry standards with very good stability of the printed images. Particularly suitable for printing photorealistic quality images with intense colours and uniform matt.

Katana Photo Matt 180

Printed on EPSON SureColor P9000

UltraChrome HD 8-Color pigment ink
Frequently asked questions
How long does it take to ship?

Shipping times depend on your location and the shipping method chosen during checkout.

Standard shipping within the EU usually takes 3-7 business days, while air shipping may take longer, up to 10 work days.

Since our prints are made on-demand, production times can vary. On average, it takes about 2-3 business days for production.

What materials are used?

We use high-quality materials to ensure the best possible results.

For fine art prints, we use 285 gsm German Etching Hahnemühle art paper.

Poster prints are typically printed on durable, 180 gsm heavyweight paper with a slight satin finish.
What sizes are available?

Our art prints come in various sizes to accommodate different needs and display options. 

Popular sizes include 20x14 inches, 28x20 inches, and 40x28 inches. 

These prints tend to be on the larger side and are compatible with most ready-to-use frames.
What is your return and refund policy?

We provide a 60-day, no-questions-asked return policy for all print products, unless otherwise specified on the item. To be eligible for an exchange or refund, the products must be in the same condition as when they were received.

If you wish to initiate a return or exchange, please contact us via email. For more comprehensive information, please visit our dedicated Return Policy page on our website
Do you ship internationally?

Yes, we offer international shipping to many countries worldwide.


However, please note that shipping times and customs procedures may vary.
Can I track my order?

Absolutely! Once your print is shipped, you will receive a shipping confirmation email with a tracking number. You can use this tracking number to monitor the progress of your shipment and estimate its arrival date.