Regular price
Sale price
$30.00 USD
Unit price
per
Special
Sold out
Mercedes-Benz made its first small luxury sedan and considered returning to rallying. They partnered with Cosworth, but Audi Quattro performed so well that it overshadowed their efforts. However, this setback led them to focus on racing on tracks. They developed the Mercedes-Benz 190 E 2.5-16 Evo II DTM, a legendary racing car.
In 1984, they gave the newly designed 190 E 2.3-16 car to twenty past F1 Grand Prix winners for a special race at the new Grand Prix configuration of Nurburgring. The driver list included famous names like Jack Brabham, Hans Herrmann, Jody Schekter, Stirling Moss, James Hunt, Niki Lauda, and more. Ayrton Senna, just 24 years old at the time, won that remarkable race.
The Mercedes-Benz 190E-2.5-16 DTM Evo-2, as it was called, marked Mercedes-Benz's entry into DTM racing. It was their strong comeback to motorsports and Group C endurance racing. In 1989, they upgraded it with a 2.5-liter engine and a 16-valve design that produced 340 horsepower. They made the car lighter for racing by removing interior parts and using Kevlar for the hood, boot lid, and spoiler. Later, they boosted its power to 373 hp, and this version was known as Evo II.
The last racing season for the Mercedes-Benz 190 E 2.5-16 Evo II in DTM was in 1993. It had an incredible career with 52 victories. The final win was by Bernd Schneider at Hockenheimring. 
50 in stock
View full details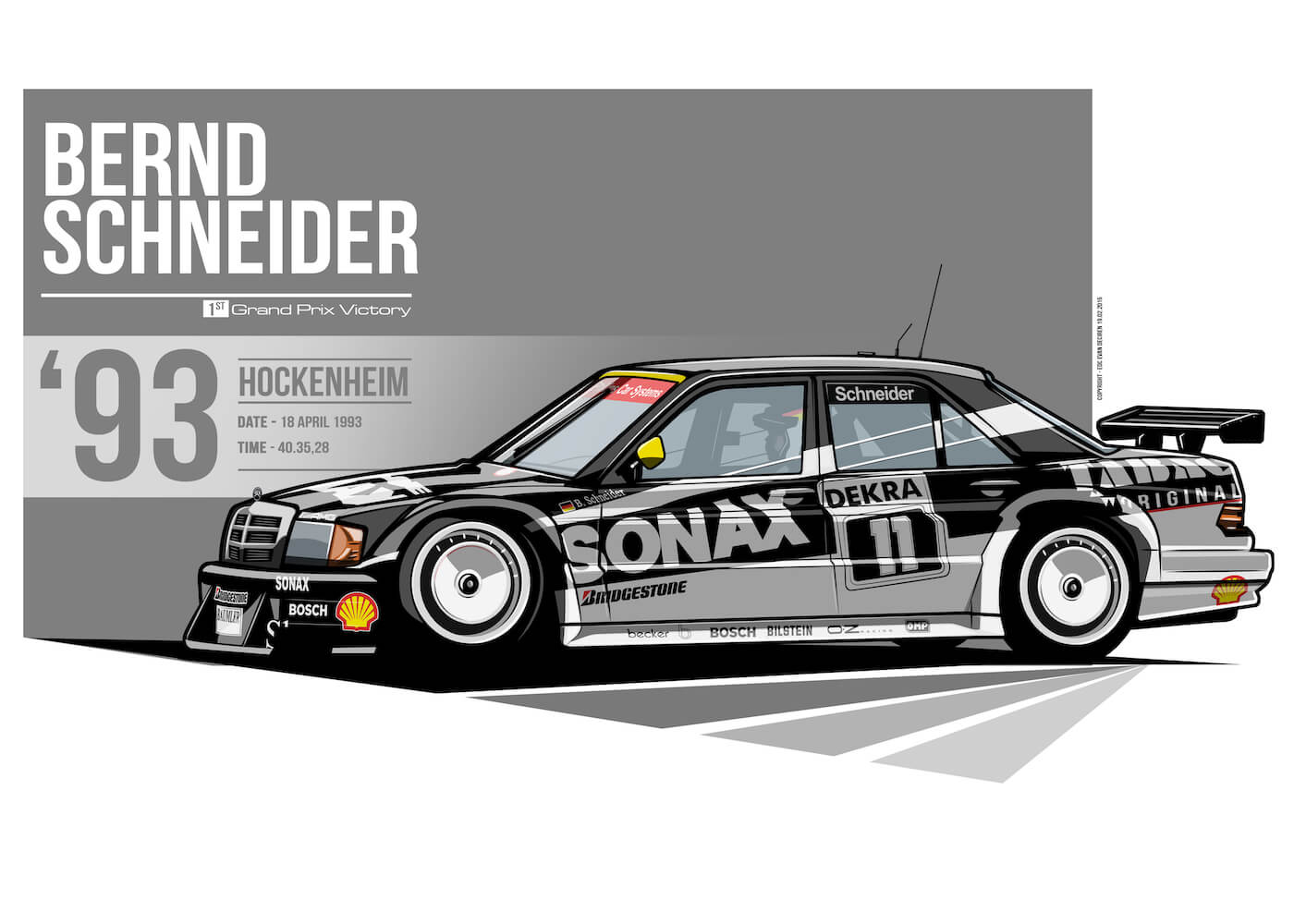 Evan DeCiren
Evan DeCiren was born and raised in the Italian-speaking region of Switzerland in the humble family of a superbike mechanic. Naturally, he spent a lot of time in the camper of his father team Honda HRC during various competitions across Europe.
Evan has developed a great affinity for comic art and since he was a kid, he wanted to be a designer. And succeeded in a spectacular way. "I was always into comics – starting with the classic "Mickey Mouse" to the "Japanese Manga".
In '96 when we went with the whole family to spend a month of our summer vacation being guests to a friend of my father who was Honda FCC engineer. The Japanese culture from here on will become an inspiration in my personal growth", remembers Evan.
His story is also interesting because he has both mechanical and illustrator degrees. Think of him as the guy capable for both fixing and drawing vehicles. Initially, his comics` studies were influenced by the Japan manga comic style but latter he found inspiration in the design works of Mignola, Miller and Risso. They had helped Evan to form his unique and distinctive style.
Our prints
To meet our high-quality standards, we rely on the best available printing technology for Fine Art Reproductions and use the industry-leading printing machines made by EPSON.

Fine Art Print

310 gsm · 100% α-cellulose · genuine mould-made paper

Fine art prints are made on Hahnemühle German Etching - a white, 100% α-cellulose paper for archival standards. The mould-made etching paper features a distinct textured surface. With its premium matt inkjet coating German Etching meets the highest industry standards regarding density, colour gamut, colour graduation and image sharpness while preserving the special touch and feel of genuine art paper.

Hahnemühle German Etching® FineArt media

Clearly defined felt structure

Museum quality for highest age resistance

Certificate of Authenticity

Security Hologram Sticker

Photo Matt

180 gsm · matt-coated paper

Premium heavyweight paper, produced in Japan, at the highest industry standards with very good stability of the printed images. Particularly suitable for printing photorealistic quality images with intense colours and uniform matt.

Katana Photo Matt 180

Printed on EPSON SureColor P9000

UltraChrome HD 8-Color pigment ink
Frequently asked questions
How long does it take to ship?

Shipping times depend on your location and the shipping method chosen during checkout.

Standard shipping within the EU usually takes 3-7 business days, while air shipping may take longer, up to 10 work days.

Since our prints are made on-demand, production times can vary. On average, it takes about 2-3 business days for production.

What materials are used?

We use high-quality materials to ensure the best possible results.

For fine art prints, we use 285 gsm German Etching Hahnemühle art paper.

Poster prints are typically printed on durable, 180 gsm heavyweight paper with a slight satin finish.
What sizes are available?

Our art prints come in various sizes to accommodate different needs and display options. 

Popular sizes include 20x14 inches, 28x20 inches, and 40x28 inches. 

These prints tend to be on the larger side and are compatible with most ready-to-use frames.
What is your return and refund policy?

We provide a 60-day, no-questions-asked return policy for all print products, unless otherwise specified on the item. To be eligible for an exchange or refund, the products must be in the same condition as when they were received.

If you wish to initiate a return or exchange, please contact us via email. For more comprehensive information, please visit our dedicated Return Policy page on our website
Do you ship internationally?

Yes, we offer international shipping to many countries worldwide.


However, please note that shipping times and customs procedures may vary.
Can I track my order?

Absolutely! Once your print is shipped, you will receive a shipping confirmation email with a tracking number. You can use this tracking number to monitor the progress of your shipment and estimate its arrival date.