Regular price
Sale price
$30.00 USD
Unit price
per
Special
Sold out
The three-pointed star car manufacturer is the creator of some of the most notable vehicles in automotive history. The 300SL W198, famous also as the "vehicle with the wings" or the Gullwing, receives the title "sports car of the century" in 1999. The 300SL is believed to be one of the technological marvels of post-war Germany.
Its technical novelties feature a light tubular frame, upward going doors, and a 3-Liter longitudinally mounted 6-cylinder engine with direct fuel injection.
Some might say it's the first supercar
300SL W198 is the fastest car of its time with a top speed of 259 km/h. Only the quickest modern everyday vehicles are capable of such speed. Because of its swing-axle rear suspension and drum brakes, the Gullwing is tricky to drive.
It is their US importer that convinces Mercedes to derive a road car out of the W194 racecar. Some consider it to be the world's first-ever supercar. We would not argue if that is the Gullwing or Lamborghini Miura, but they both have what it takes. The car has the exclusivity, high-speed capability and price tag to be the statement of the rich and famous.
A genuine racing pedigree
This Mercedes is a car that has some of the most prominent pilots behind its wheel. Just a few of them are Sir Stirling Moss, Juan Manuel Fangio, John Fitch and Paul O'Shea. An interesting fact is that Sir Moss holds the "forever" course record for his famous Mille Miglia finish in 1955. He becomes the first and only British to win the Mille Miglia by an incredible margin.
Apart from its technical novelties, unusual doors, and spectacular competition performance, the Gullwing stands out with its sheer elegance as well. This is where the inspiration for artist Łukasz Myszynski comes from. You can order now your Mercedes 300SL W198 at Simply Petrol marketplace - paper and size are upon your liking.
View full details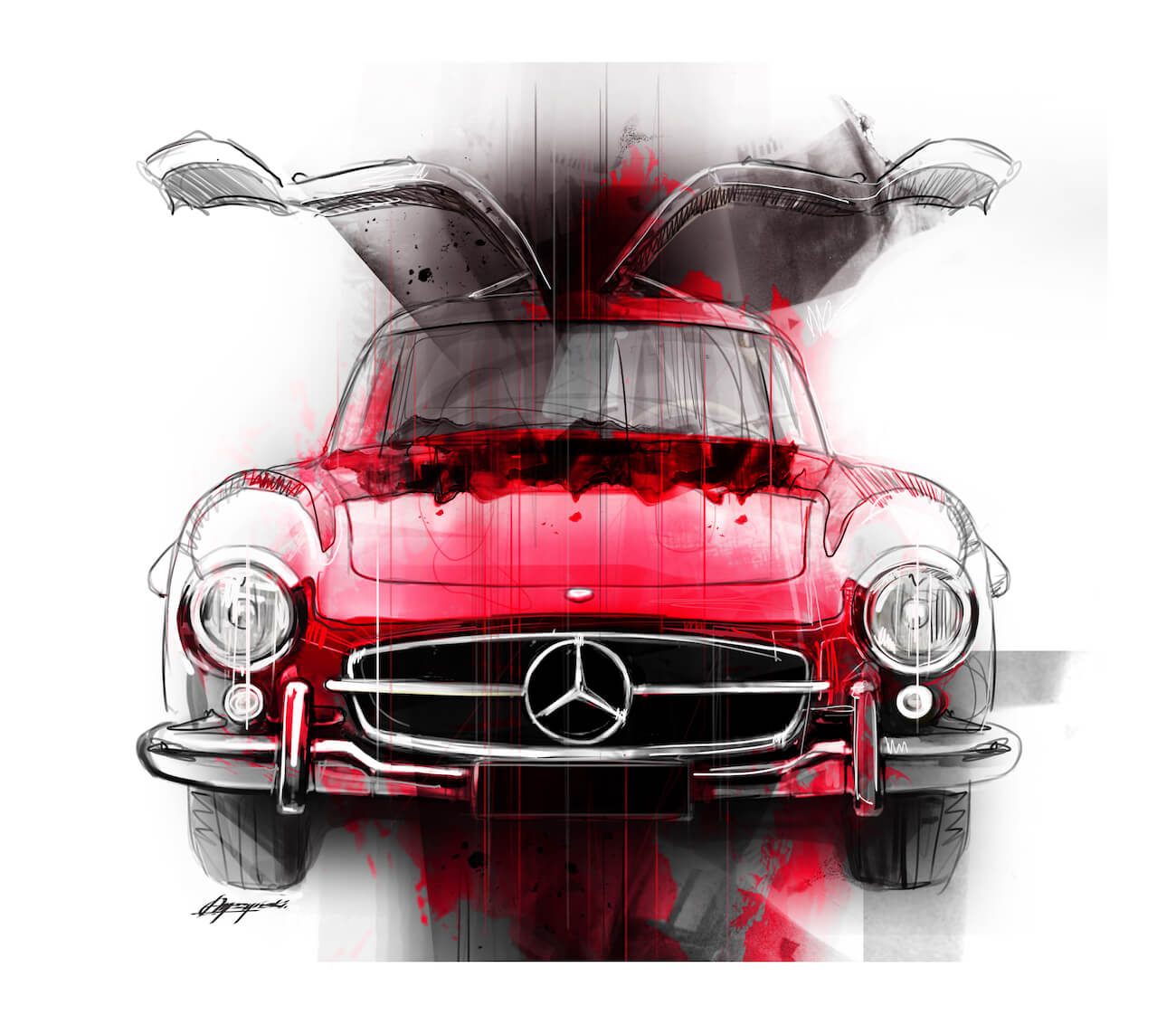 Lukasz Myszynski
Polish designer and artist, Łukasz Myszynski is born in 1988. He graduated from The Academy of Art and Design in Wroclaw (Poland) and Scuola Politecnica di Design Milano (Italy) with  Masters Degree in  Car Design. During his Masters Course, he worked in collaboration with  both Audi and Lamborghini, creating special prototype project designs.
The passion of creating automotive art and design fulfills his creative life and makes him happy. Łukasz is awarded at many design contests, incl. Sketch Fighter International 2014 and Mazda Design 2014. His works were published in Auto & Design magazine, as well as in TopGear.com. His style is very bold and vivid. Łukasz relies on striking colors blended in to powerful artworks. In the end of the day he would be happy to know that there are smiling and excited faces among his audience.
Our prints
To meet our high-quality standards, we rely on the best available printing technology for Fine Art Reproductions and use the industry-leading printing machines made by EPSON.

Fine Art Print

310 gsm · 100% α-cellulose · genuine mould-made paper

Fine art prints are made on Hahnemühle German Etching - a white, 100% α-cellulose paper for archival standards. The mould-made etching paper features a distinct textured surface. With its premium matt inkjet coating German Etching meets the highest industry standards regarding density, colour gamut, colour graduation and image sharpness while preserving the special touch and feel of genuine art paper.

Hahnemühle German Etching® FineArt media

Clearly defined felt structure

Museum quality for highest age resistance

Certificate of Authenticity

Security Hologram Sticker

Photo Matt

180 gsm · matt-coated paper

Premium heavyweight paper, produced in Japan, at the highest industry standards with very good stability of the printed images. Particularly suitable for printing photorealistic quality images with intense colours and uniform matt.

Katana Photo Matt 180

Printed on EPSON SureColor P9000

UltraChrome HD 8-Color pigment ink
Frequently asked questions
How long does it take to ship?

Shipping times depend on your location and the shipping method chosen during checkout.

Standard shipping within the EU usually takes 3-7 business days, while air shipping may take longer, up to 10 work days.

Since our prints are made on-demand, production times can vary. On average, it takes about 2-3 business days for production.

What materials are used?

We use high-quality materials to ensure the best possible results.

For fine art prints, we use 285 gsm German Etching Hahnemühle art paper.

Poster prints are typically printed on durable, 180 gsm heavyweight paper with a slight satin finish.
What sizes are available?

Our art prints come in various sizes to accommodate different needs and display options. 

Popular sizes include 20x14 inches, 28x20 inches, and 40x28 inches. 

These prints tend to be on the larger side and are compatible with most ready-to-use frames.
What is your return and refund policy?

We provide a 60-day, no-questions-asked return policy for all print products, unless otherwise specified on the item. To be eligible for an exchange or refund, the products must be in the same condition as when they were received.

If you wish to initiate a return or exchange, please contact us via email. For more comprehensive information, please visit our dedicated Return Policy page on our website
Do you ship internationally?

Yes, we offer international shipping to many countries worldwide.


However, please note that shipping times and customs procedures may vary.
Can I track my order?

Absolutely! Once your print is shipped, you will receive a shipping confirmation email with a tracking number. You can use this tracking number to monitor the progress of your shipment and estimate its arrival date.