Regular price
Sale price
$30.00 USD
Unit price
per
Special
Sold out
You can now celebrate the glory days of Auto Union by purchasing this Auto Union Tazio Nuvolari art print, dedicated to the famous Type D. Created by Luis Ferrera and printed by Simply Petrol.
Auto Union plays key role in Silver Arrows dominance in the motorsports in the 30`s. Along with Mercedes, their innovative racing cars are the stars on all podiums. It is the talent of legendary pilots as Tazio Nuvolari, Hans Stuck and Bernd Rosemeyer (Auto Union) and also Rudolf Caracciola, Manfred von Brauchitsch and Hermann Lang (Mercedes) that fuels their success. It seems as they have no competitors at all.
For season '38 Auto Union want their V16 engine to meet the 3 liter capacity restriction so they cut four cylinders of it. The car is good but the pilots are rather unexperienced and the decision is to approach Tazio Nuvolari. He just split with the Alfa Romeo team after a scandal with the reliability of his racing car. The Type D he creates for Auto Union is much more trustworthy and the Italian wins his home Grand Prix at Monza as well as the British GP held at Donington Park. Next season, on September 3rd, 1939, Tazio Nuvolari's Type D wins the Belgrade Gran Prix. This is the last Grand Prix competition conducted before the WWII. Enjoy some 1939 Belgrade Gran Prix moments here. If you are a true Auto Union fan, we believe you will like this story too.
View full details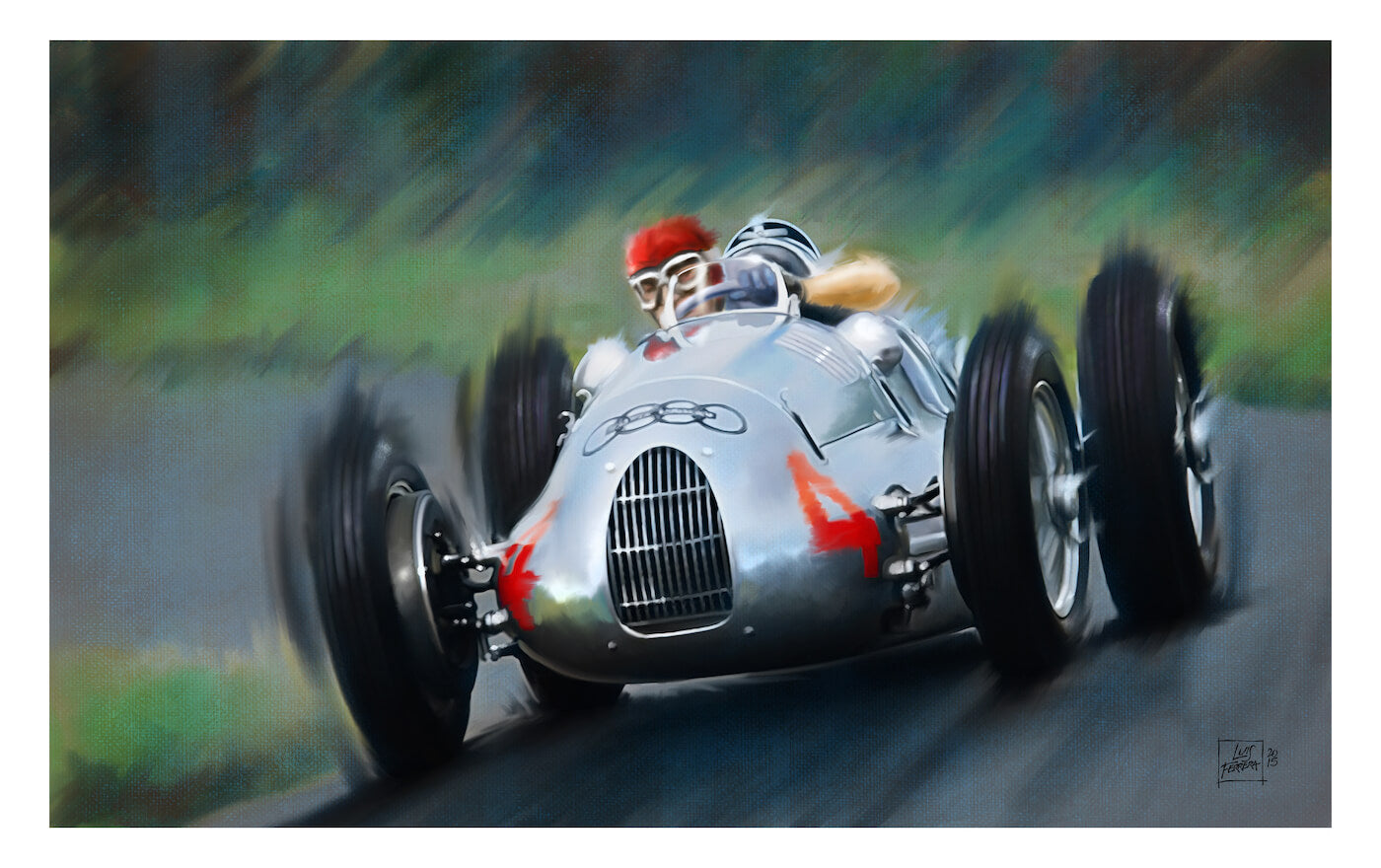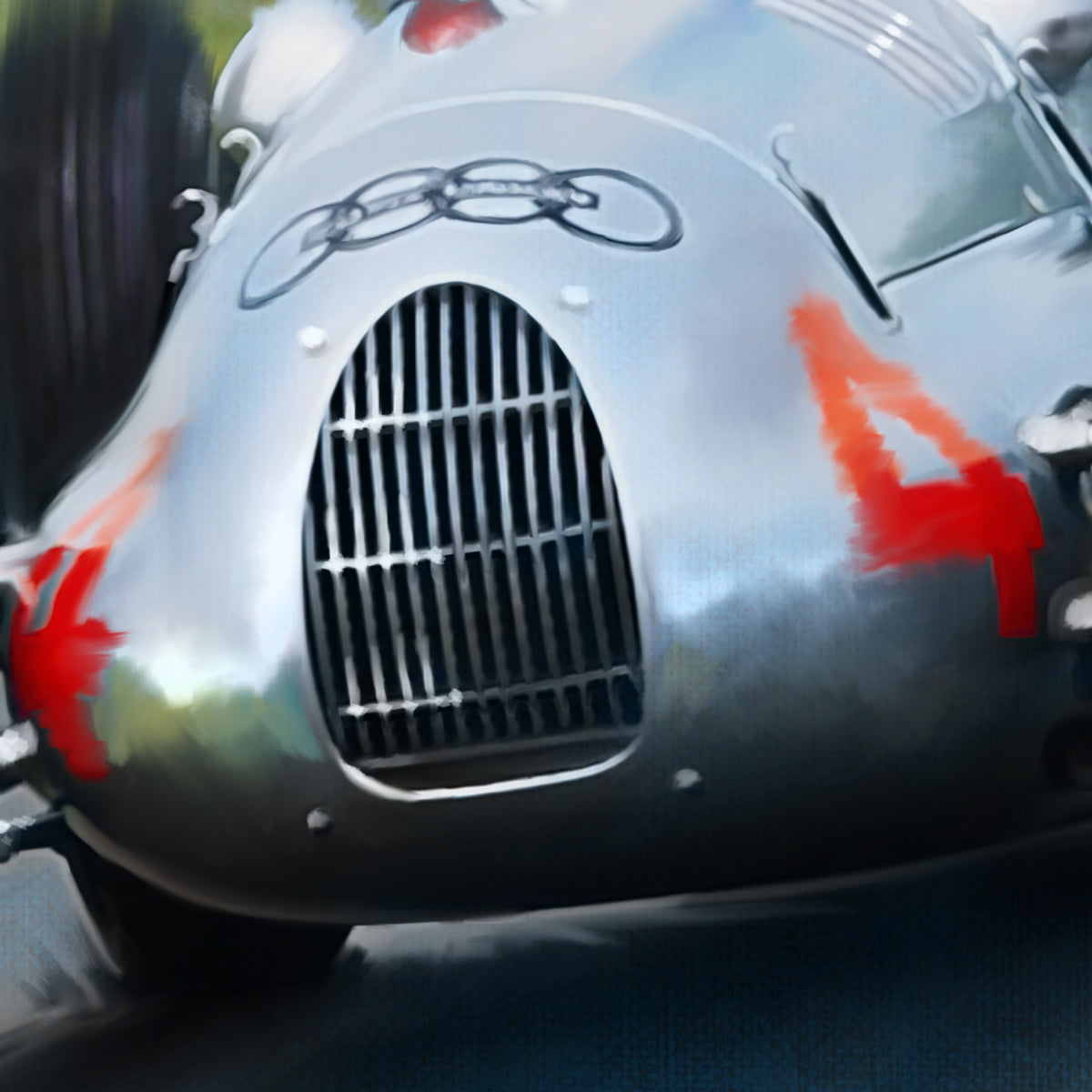 Our prints
To meet our high-quality standards, we rely on the best available print technology. Therefore, we use the highest quality of fine art application printers by EPSON among the sophisticated and patented printing process also known as "giclée".
We deliver the best possible reproductions of the original artists' works.
Fine Art Print

310 gsm · 100% α-cellulose · genuine mould-made paper

Fine art prints are made on German Etching Hahnemühle traditional mould-made copperplate printing paper of highest quality. The unique surface texture showcase the works of art in all their splendour with impressive three-dimensional effect and depth.

Hahnemühle German Etching® FineArt media

Printed on EPSON SureColor P9570

12-color archival pigment ink

Security Hologram Sticker

Certificate of Authenticity

Photo Matt

180 gsm · matt-coated paper

Premium heavyweight paper, produced in Japan, at the highest industry standards with very good stability of the printed images. Particularly suitable for printing photorealistic quality images with intense colours and uniform matt.

Katana Photo Matt 180

Printed on EPSON SureColor P9000

UltraChrome HD 8-Color pigment ink
Frequently asked questions
How long does it take to ship?

Shipping times depend on your location and the shipping method chosen during checkout.

Standard shipping within the EU usually takes 3-7 business days, while air shipping may take longer, up to 10 work days.

Since our prints are made on-demand, production times can vary. On average, it takes about 2-3 business days for production.

What materials are used?

We use high-quality materials to ensure the best possible results.

For fine art prints, we use 285 gsm German Etching Hahnemühle art paper.

Poster prints are typically printed on durable, 180 gsm heavyweight paper with a slight satin finish.
What sizes are available?

Our art prints come in various sizes to accommodate different needs and display options. 

Popular sizes include 20x14 inches, 28x20 inches, and 40x28 inches. 

These prints tend to be on the larger side and are compatible with most ready-to-use frames.
What is your return and refund policy?

We provide a 60-day, no-questions-asked return policy for all print products, unless otherwise specified on the item. To be eligible for an exchange or refund, the products must be in the same condition as when they were received.

If you wish to initiate a return or exchange, please contact us via email. For more comprehensive information, please visit our dedicated Return Policy page on our website
Do you ship internationally?

Yes, we offer international shipping to many countries worldwide.


However, please note that shipping times and customs procedures may vary.
Can I track my order?

Absolutely! Once your print is shipped, you will receive a shipping confirmation email with a tracking number. You can use this tracking number to monitor the progress of your shipment and estimate its arrival date.