Regular price
Sale price
$30.00 USD
Unit price
per
Special
Sold out
This Ferrari 250 GTO art captures one of the most iconic Ferrari cars during its run at the Targa Florio in 1964. The story of the blue-yellow 250 GTO is truly exciting, especially having in mind the fact that it still exists in this livery and is in a fully restored condition.
Ferrari manufactures the car with chassis #3445 GT. Its first owner is the Bologna-based publisher Luciano Conti. He receives the car in 1962 and sells it later that year. With Conti, the Ferrari attends its first competition, the Bologna - Passo Della Raticosa. The new owner of #3445 GT chassis is Count Giovanni Volpi di Misurata, a nobleman with a racing passion. His team competes under the patronage of the Venice Republic. At this time the Ferrari 250 GTO wins the Trophee d`Auvergne with Carlo Maria Abate behind the steering wheel. 
Ulf Norinder from Sweden buys the car in April 1963. Following the current regulations, he changes its colour from red to blue and yellow so it matches the Sweden flag. Norinder wins a track event in Vastkustloppet, Sweden. The car also finishes second in its class at the Targa Florio both in 1963 and 1964.
The chassis #3445 GT Ferrari 250 GTO changes its owners several times before the American billionaire Chris Cox buys it and restores it with the help of Ferrari Classic division. Unfortunately, he crashes the car into a Hyundai during the Le Mans Classic competition. It is immediately sent back to Ferrari Classic for repairing.
View full details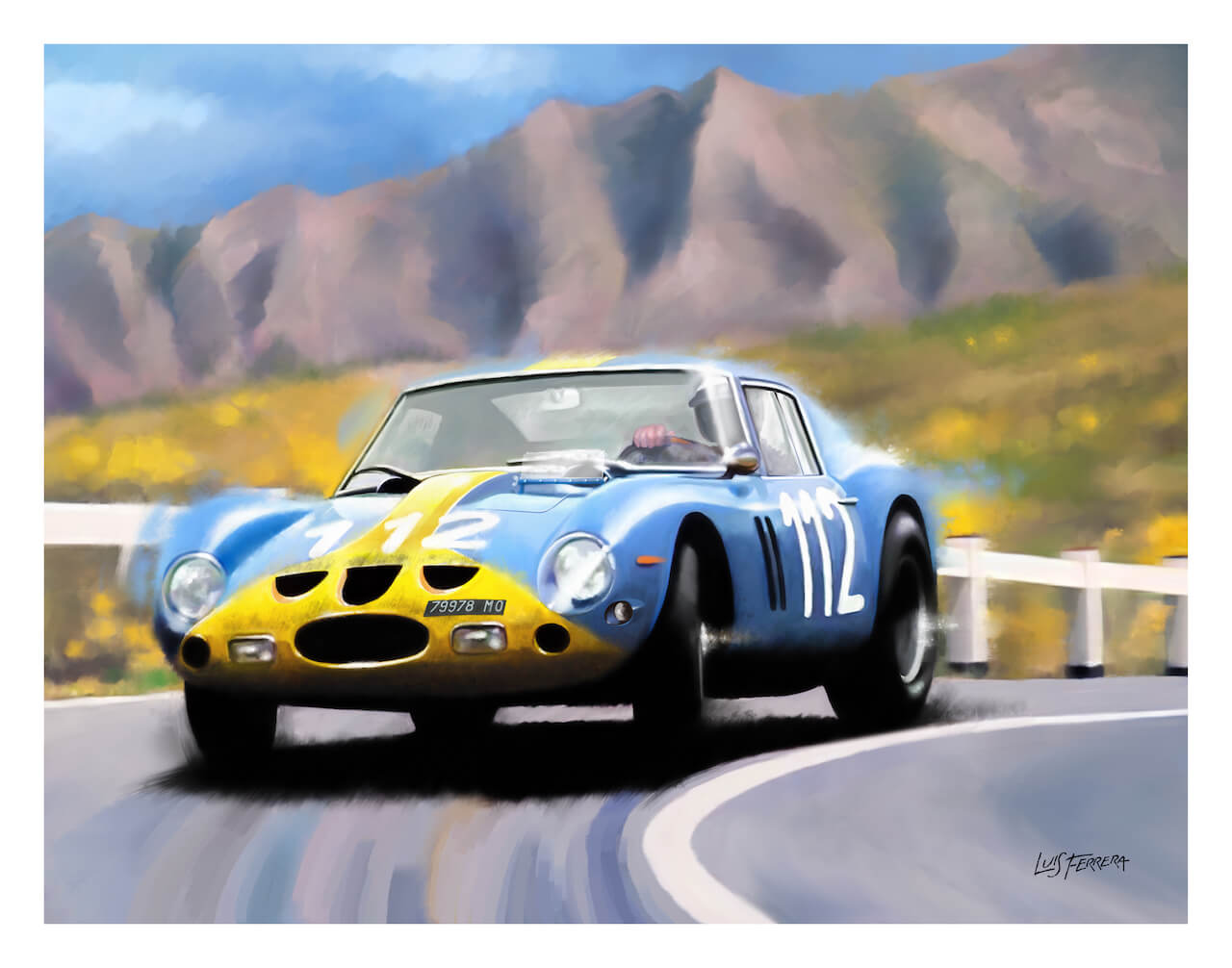 Simply Petrol car art
Fine art prints

285 gsm, 100% a-cellulose mould-made

Fine art prints are made on German Etching Hahnemühle traditional mould-made copperplate printing paper of highest quality.

The unique surface texture showcase the works of art in all their splendour with impressive three-dimensional effect and depth.

This paper is designed for FineArt applications.

Posters

180 gsm photo matt

The high-quality matt photo inkjet paper is particularly suitable for printing photorealistic quality images. The special coating guarantees high resolution and high friction resistance levels.
Frequently asked questions
How long does it take to ship?

Since our prints are made on-demand, production times can vary. On average, it takes about 2-3 business days for production.

Shipping times depend on your location and the shipping method chosen during checkout.

Standard shipping within EU usually takes 3-7 business days, while air shipping may take longer, up to 10 work days.
What materials are used?

We use high-quality materials to ensure the best possible results.

For fine art prints, we use 285 gsm German Etching Hahnemühle art paper.

Poster prints are typically printed on durable, 180 gsm heavyweight paper with a slight satin finish.
What sizes are available?

Our art prints come in various sizes to accommodate different needs and display options. Common sizes include 20x14 inches, 28x20 inches, 40x28 inches. It's fair to say our prints are on the bigger spectrums of prints offered.
What is your return and refund policy?

Wea 60-day, no questions asked return policy on all print products otherwise noted on the item. Their condition must be the same as received to qualify for an exchange or refund. To start an exchange or return, please email us.

Please refer to our dedicated Return Policy page on our website for more detailed information.
Do you ship internationally?

Yes, we offer international shipping to many countries worldwide.


However, please note that shipping times and customs procedures may vary.
Can I track my order?

Absolutely! Once your print is shipped, you will receive a shipping confirmation email with a tracking number. You can use this tracking number to monitor the progress of your shipment and estimate its arrival date.