Regular price
Sale price
$30.00 USD
Unit price
per
Special
Sold out
The artistic inspiration for this beautiful Ford GT40 Gulf poster comes from the 50th anniversary of the very first Le Mans winner whose sponsor is the Gulf Oil Corporation.
It happens back in 1968, just after Ford wins Le Mans in 1966 and 1967.  At that time, Ford USA decides to withdraw from sports car racing. In turn, Gulf Oil takes over the sponsorship of the newly acquired GT40 race team – J.W. Automotive Engineering. Their racing car is in the now-iconic combination of Gulf Powder Blue and Marigold Orange.
The Ford GT40 Gulf in this art print is among the very few vehicles which have won Le Mans twice. Chassis #1075 is one of the three Mirage GT40s ever built. At first Pedro Rodriguez and Lucien Bianchi take the title in 1968. A year later, in 1969 Jackie Oliver and Jacky Ickx win Le Mans in the same car leaving behind Porsche 908.
This Ford GT40 Gulf poster pays tribute to a legendary achievement
This car is the first to utilize composite materials like carbon fibre. Back in the '60s, lightweight materials are a true innovation. The first win comes in 1968 in an unusually cold and wet race. It is held in late summer due to political instability in France. Chassis #1075 holds the lead for 17 of the 24 hours and the car performs flawlessly. The next year the Belgian Jacky Ickx and the British Jackie Oliver cross the finishing line first again.
In 1969 the Belgian pilot refuses to perform the running Le Mans start, which forces pilots to lock their seat belts in motion. Earlier in the season, a British driver is killed in an accident before he has the chance to buckle up. In an act of protest, Ickx carefully straps himself before setting off.
View full details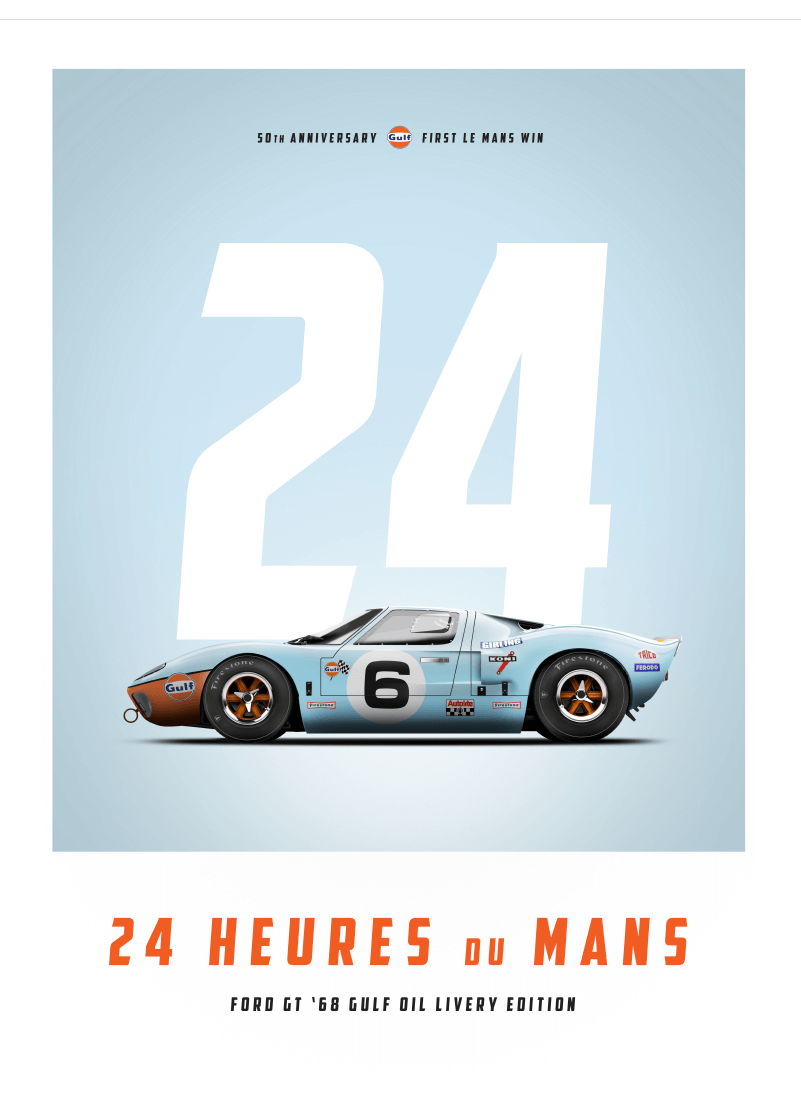 Simply Petrol car art
Fine art prints

285 gsm, 100% a-cellulose mould-made

Fine art prints are made on German Etching Hahnemühle traditional mould-made copperplate printing paper of highest quality.

The unique surface texture showcase the works of art in all their splendour with impressive three-dimensional effect and depth.

This paper is designed for FineArt applications.

Posters

180 gsm photo matt

The high-quality matt photo inkjet paper is particularly suitable for printing photorealistic quality images. The special coating guarantees high resolution and high friction resistance levels.
Frequently asked questions
How long does it take to ship?

Since our prints are made on-demand, production times can vary. On average, it takes about 2-3 business days for production.

Shipping times depend on your location and the shipping method chosen during checkout.

Standard shipping within EU usually takes 3-7 business days, while air shipping may take longer, up to 10 work days.
What materials are used?

We use high-quality materials to ensure the best possible results.

For fine art prints, we use 285 gsm German Etching Hahnemühle art paper.

Poster prints are typically printed on durable, 180 gsm heavyweight paper with a slight satin finish.
What sizes are available?

Our art prints come in various sizes to accommodate different needs and display options. Common sizes include 20x14 inches, 28x20 inches, 40x28 inches. It's fair to say our prints are on the bigger spectrums of prints offered.
What is your return and refund policy?

Wea 60-day, no questions asked return policy on all print products otherwise noted on the item. Their condition must be the same as received to qualify for an exchange or refund. To start an exchange or return, please email us.

Please refer to our dedicated Return Policy page on our website for more detailed information.
Do you ship internationally?

Yes, we offer international shipping to many countries worldwide.


However, please note that shipping times and customs procedures may vary.
Can I track my order?

Absolutely! Once your print is shipped, you will receive a shipping confirmation email with a tracking number. You can use this tracking number to monitor the progress of your shipment and estimate its arrival date.