Regular price
Sale price
$30.00 USD
Unit price
per
Special
Sold out
The Bible story of David vs. Goliath repeats itself in history. This time it is Carroll Shelby who stands up against Ferrari and other European manufacturers. The Shelby Daytona Coupe and its glorious racing success inspire artist Stamatis Tsirdimos for this stylish car art poster.
Origin
Back in the 60s, Carroll Shelby's Cobra is already gaining popularity. The sports car makes quite an impression on the public with its powerful V8 Ford engine. However, because of its roadster body type, it has the aerodynamics of a brick. Hence less powerful cars like the Ferrari 250 GTO and Porsche 904 are significantly faster. The vehicle needs a coupe body. That's how the Shelby Daytona Coupe is born.
Pete Brock receives all the credits for the design of Shelby Daytona Coupe but some of his bright ideas come from the aerodynamics experts of the aircraft manufacturer Convair. They propose the Kam-tail design, which proves to be a perfect fit for its high-speed goals. The Daytona Coupe manages to reach 190 mph equal to 310 km/h.
Brock starts prototyping with scrap wood and gaffer tape; the design of the windscreen is next.  Then he places interspaced wooden formers and hand-built aluminium body panels. This is how the first prototype of the Shelby Daytona Coupe looks like. Carrozzeria Gransport builds five more in Modena, Italy.
The Shelby Daytona Coupe is a racing hero
During seasons '64 and '65, Shelby Daytona Coupe races in GT Division III, a compound of racing cars with engines over 2000 cm3. And it is an instant success in the endurance racing. Shelby Daytona Coupe registers a few land speed records at the Bonneville salt lake. The Shelby Coupe wins in its class at 12 Hours of Sebring, 24 Hours of Le Mans, RAC Tourist Trophy, 24 Hours of Daytona, Italian GP at Monza, Nurburgring 1000, etc.
View full details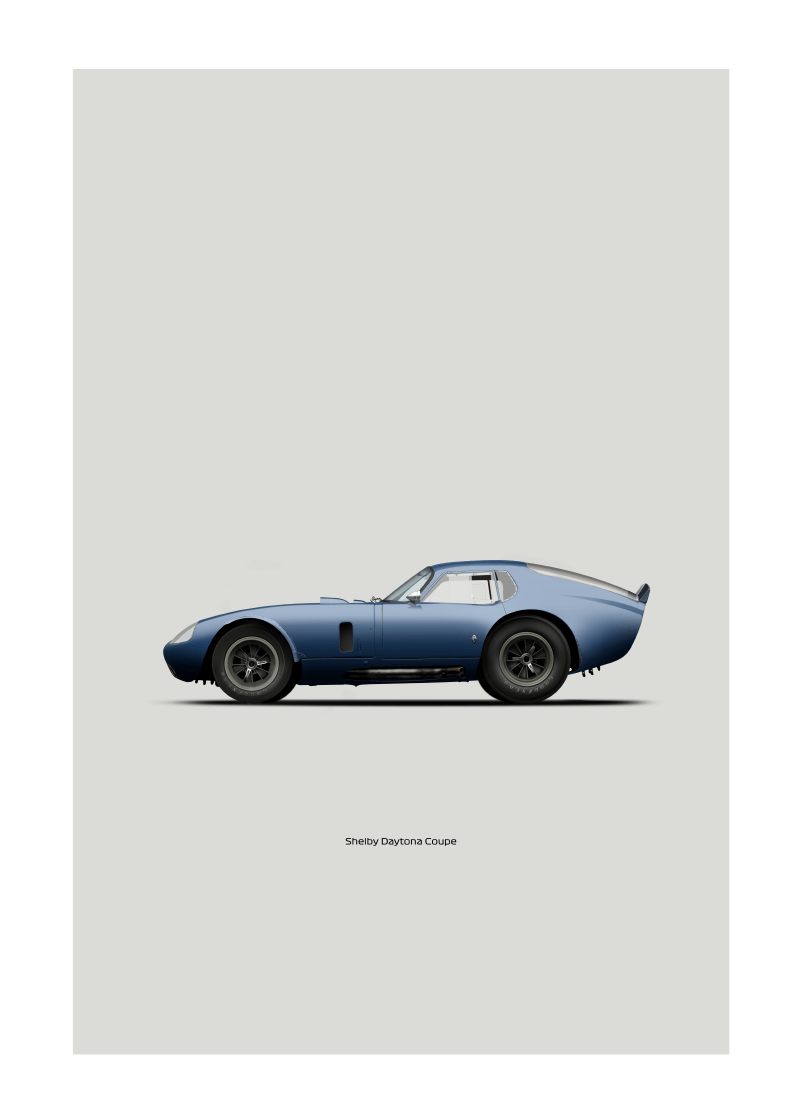 Simply Petrol car art
Fine art prints

285 gsm, 100% a-cellulose mould-made

Fine art prints are made on German Etching Hahnemühle traditional mould-made copperplate printing paper of highest quality.

The unique surface texture showcase the works of art in all their splendour with impressive three-dimensional effect and depth.

This paper is designed for FineArt applications.

Posters

180 gsm photo matt

The high-quality matt photo inkjet paper is particularly suitable for printing photorealistic quality images. The special coating guarantees high resolution and high friction resistance levels.
Frequently asked questions
How long does it take to ship?

Since our prints are made on-demand, production times can vary. On average, it takes about 2-3 business days for production.

Shipping times depend on your location and the shipping method chosen during checkout.

Standard shipping within EU usually takes 3-7 business days, while air shipping may take longer, up to 10 work days.
What materials are used?

We use high-quality materials to ensure the best possible results.

For fine art prints, we use 285 gsm German Etching Hahnemühle art paper.

Poster prints are typically printed on durable, 180 gsm heavyweight paper with a slight satin finish.
What sizes are available?

Our art prints come in various sizes to accommodate different needs and display options. Common sizes include 20x14 inches, 28x20 inches, 40x28 inches. It's fair to say our prints are on the bigger spectrums of prints offered.
What is your return and refund policy?

Wea 60-day, no questions asked return policy on all print products otherwise noted on the item. Their condition must be the same as received to qualify for an exchange or refund. To start an exchange or return, please email us.

Please refer to our dedicated Return Policy page on our website for more detailed information.
Do you ship internationally?

Yes, we offer international shipping to many countries worldwide.


However, please note that shipping times and customs procedures may vary.
Can I track my order?

Absolutely! Once your print is shipped, you will receive a shipping confirmation email with a tracking number. You can use this tracking number to monitor the progress of your shipment and estimate its arrival date.