Regular price
Sale price
$30.00 USD
Unit price
per
Special
Sold out
There are cars that are both engineering and design pieces of art. For sure Mercedes-Benz 540K Special Roadster is one of them. This art print by Ankur Singh uses a fascinating mixture of light, shadow, lines, and shapes to depict the uniqueness of this vehicle. It celebrates a car that sets the speed, mechanical and design standards of its time.
Mercedes-Benz 540K Special Roadster is a genuine engineering art
Introduced at the 1936 Paris Motor Show, 540K is an upgrade of 500K which itself is better version of Mercedes-Benz SSK. Mercedes-Benz produces only 419 chassis between 1936 and 1939. They come in a variety of ten body styles, including coupe, limousine, armoured limousine, 4-seater convertible, and a 2-seater convertible also famous as Special Roadster.
Back in the day the rich and famous clients prefer to order a chassis from notable manufacturers like Bugatti, Rolls Royce, Bentley, Talbot-Lago, Mercedes-Benz or Delahaye. Coachbuilders like Figoni and Falaschi, Saoutchik, Vanvooren, Ghia, Touring, etc. receive the commissions for the car bodies.
For this model, Mercedes-Benz extend the activities of their Sindelfingen factory to meet the market customization requirements. Independent builders body only 70 chassis. Only 25 of these cars have a roadster body, or the Special Roadster. Currently, only ten of them exist and they change owners for a price tag around $10 million. Back in the day, Mercedes-Benz 540K Special Roadster is a truly special machine as well. It is more expensive than the most expensive 16-cylinder Cadillac at that time.
Powered by an in-line, 5,4-liter 8-cylinder supercharged engine with 180 hp, it is one of the very few road-going cars capable of 170 km/h. Its superchargers can be activated with the push of a button on the dashboard. The brakes are hydraulically operated on all 4 wheels. Last but not least – this car is as beautiful as no other vehicle. Its flaring fenders, rising radiator and the cascade of lights and chrome is nothing but flawless.
Even villains have a taste in cars
At the end of the `30s, Mercedes-Benz 540K is the pinnacle of German automotive engineering. Because of this, it becomes the automobile choice of the first-class Nazi officials, including Hitler and Goering.
Its design heavily influences the creators of Captain America comic series in which the evil antagonist Red Skull drives a car with a similar shape.
View full details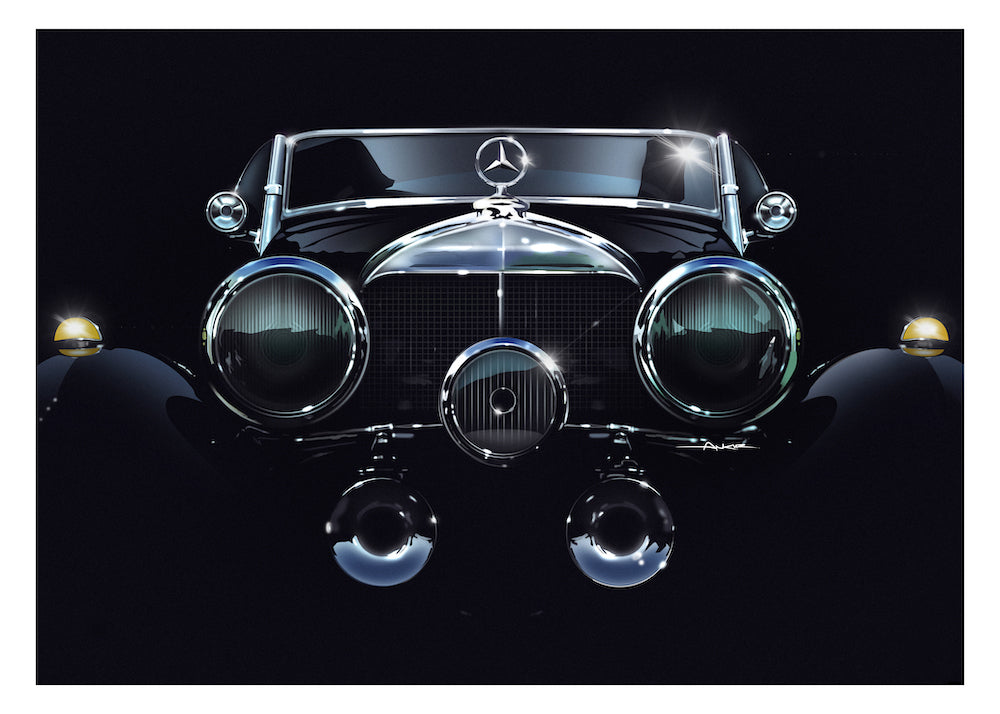 Simply Petrol car art
Fine art prints

285 gsm, 100% a-cellulose mould-made

Fine art prints are made on German Etching Hahnemühle traditional mould-made copperplate printing paper of highest quality.

The unique surface texture showcase the works of art in all their splendour with impressive three-dimensional effect and depth.

This paper is designed for FineArt applications.

Posters

180 gsm photo matt

The high-quality matt photo inkjet paper is particularly suitable for printing photorealistic quality images. The special coating guarantees high resolution and high friction resistance levels.
Frequently asked questions
How long does it take to ship?

Since our prints are made on-demand, production times can vary. On average, it takes about 2-3 business days for production.

Shipping times depend on your location and the shipping method chosen during checkout.

Standard shipping within EU usually takes 3-7 business days, while air shipping may take longer, up to 10 work days.
What materials are used?

We use high-quality materials to ensure the best possible results.

For fine art prints, we use 285 gsm German Etching Hahnemühle art paper.

Poster prints are typically printed on durable, 180 gsm heavyweight paper with a slight satin finish.
What sizes are available?

Our art prints come in various sizes to accommodate different needs and display options. Common sizes include 20x14 inches, 28x20 inches, 40x28 inches. It's fair to say our prints are on the bigger spectrums of prints offered.
What is your return and refund policy?

Wea 60-day, no questions asked return policy on all print products otherwise noted on the item. Their condition must be the same as received to qualify for an exchange or refund. To start an exchange or return, please email us.

Please refer to our dedicated Return Policy page on our website for more detailed information.
Do you ship internationally?

Yes, we offer international shipping to many countries worldwide.


However, please note that shipping times and customs procedures may vary.
Can I track my order?

Absolutely! Once your print is shipped, you will receive a shipping confirmation email with a tracking number. You can use this tracking number to monitor the progress of your shipment and estimate its arrival date.