Regular price
Sale price
$30.00 USD
Unit price
per
Special
Sold out
Fifty years ago, the 39th edition of the 24 Hours of Le Mans brought remarkable changes and standout moments, with the Porsche team playing a pivotal role.
On June 14, 1969, Jacky Ickx made a groundbreaking move, walking across the track during the race start and taking off from the last position. His spectacular victory on the final lap marked the end of the traditional Le Mans start. In 1970 cars lined up with drivers already strapped in. On June 12, 1971, the running start was permanently replaced by the current safety car procedure.
The Porsche team, represented by drivers Helmut Marko and Gijs van Lennep, achieved a historic feat in 1971. After qualifying fifth, they faced only one setback—an early race alternator belt change. In the 13th hour, they seized the lead, and finished the race by completing 397 laps and covering 5,335 km at an average speed of 222 kph. 
This set a new distance record that stood until 2010. Van Lennep, the first Dutch driver to win Le Mans, secured another triumph in 1976. Tragically, Marko's career ended abruptly in 1972 due to an eye injury. Currently, at age 78, he manages the network of young Red Bull drivers.

The Porsche team's legacy at Le Mans in 1971 remains a testament to their skill, determination, and sportsmanship, contributing to the rich history of this prestigious endurance race.
View full details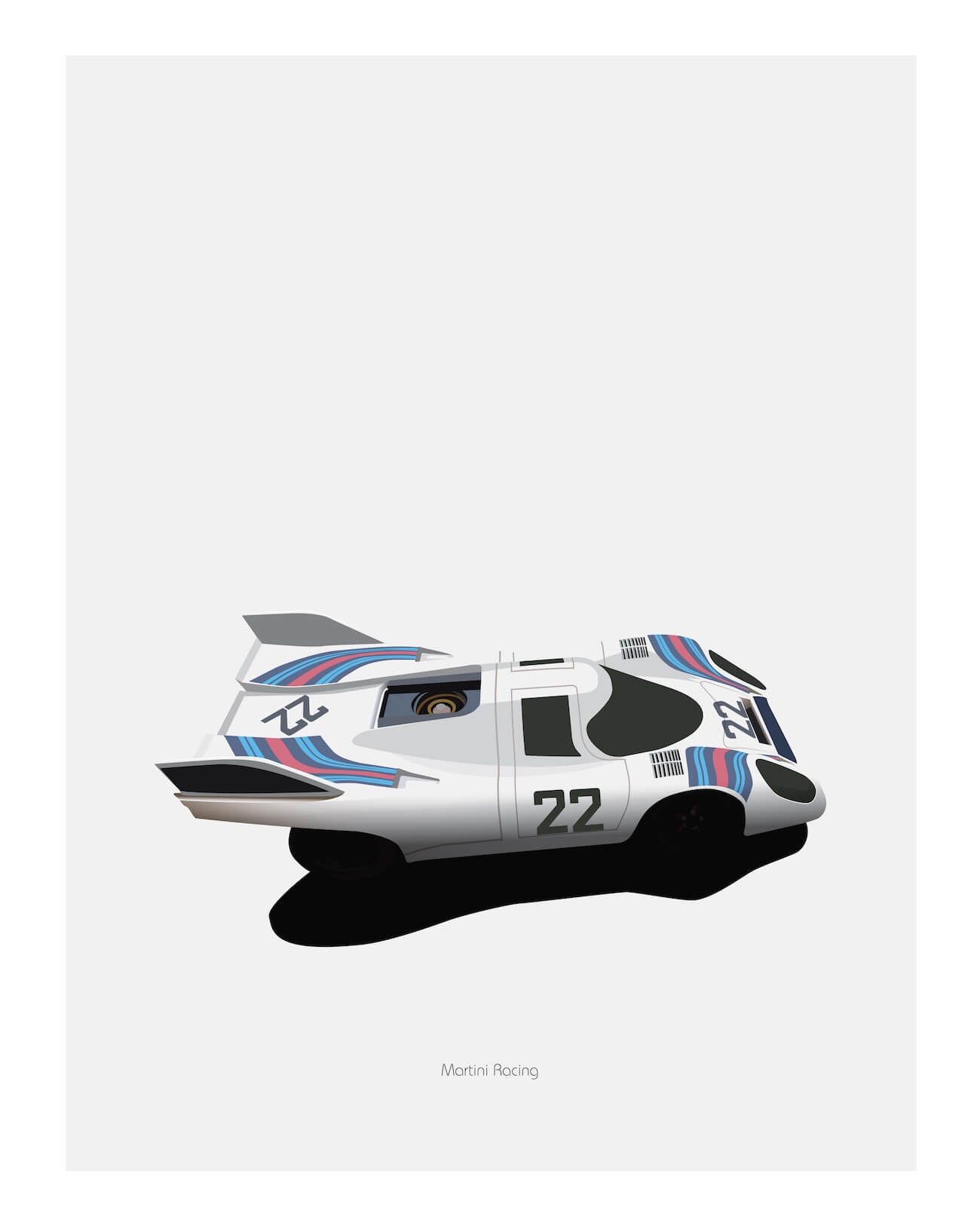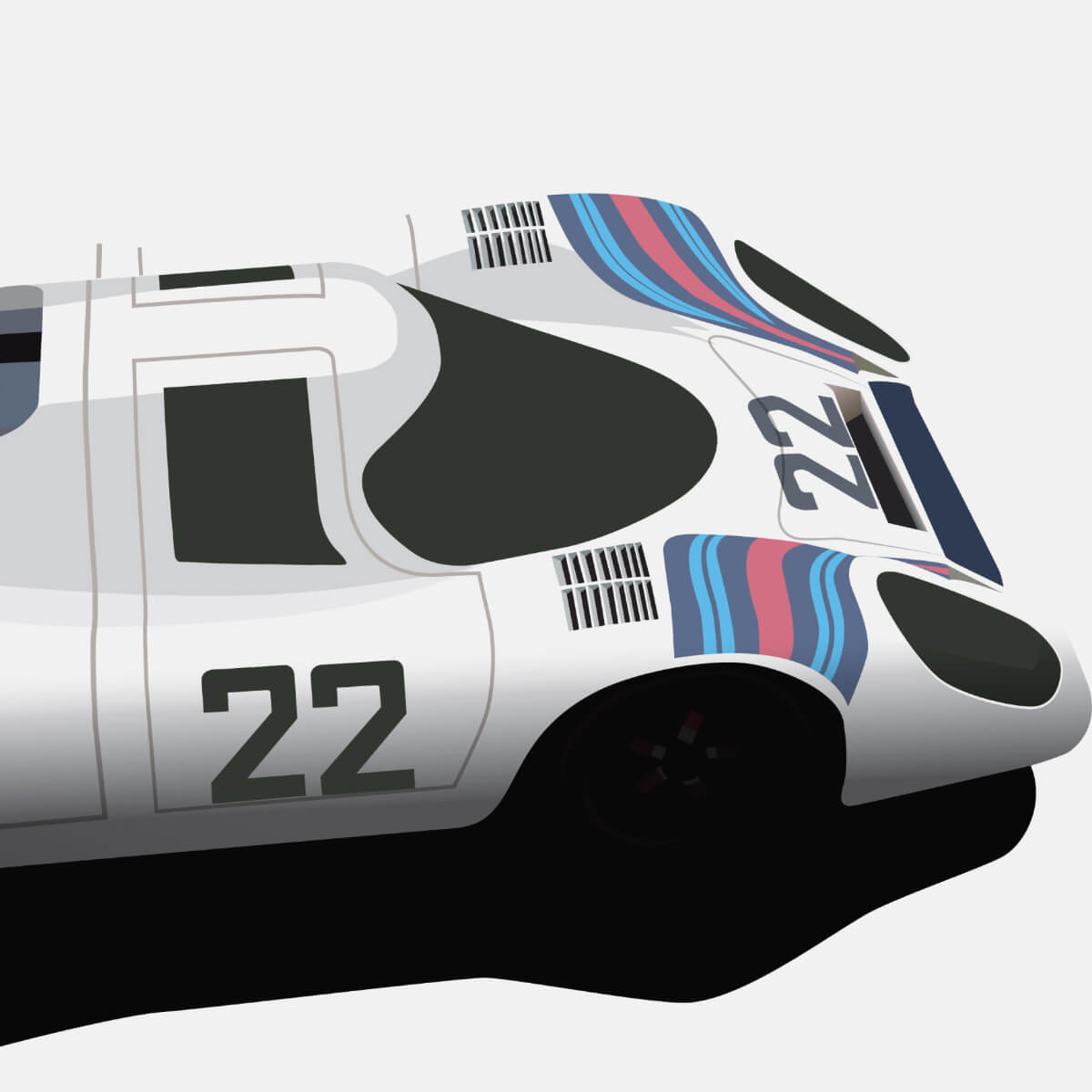 Pete Dials
Peter Dials, a full-time Graphic Designer and part-time artist, boasts degrees in both Fine Art and Graphic Design. His love affair with automobiles dates back to his formative years, marked by his inaugural spoken word, "car." Growing up in proximity to the renowned Mid-Ohio Sports Car Course, Peter had the privilege of immersing himself in the world of race cars, stoking the flames of his passion.
Currently, Peter dedicates his time to navigating the Mid-Ohio track when the opportunity beckons. Rekindling his enthusiasm for "drawing" cars, he draws inspiration from his racing passion and an intrigue for the graphic design of racing liveries. His artistic focus revolves around crafting illustrations of iconic liveries and the corresponding cars, emphasizing clean, simplistic, yet captivating visuals. Peter also indulges in creating detailed illustrations inspired by cars that capture his imagination at any given moment.
Our prints
To meet our high-quality standards, we rely on the best available print technology. Therefore, we use the highest quality of fine art application printers by EPSON among the sophisticated and patented printing process also known as "giclée".
We deliver the best possible reproductions of the original artists' works.
Fine Art Print

310 gsm · 100% α-cellulose · genuine mould-made paper

Fine art prints are made on German Etching Hahnemühle traditional mould-made copperplate printing paper of highest quality. The unique surface texture showcase the works of art in all their splendour with impressive three-dimensional effect and depth. All fine art prints are made by professionals with the highest available FineArt print technology by EPSON.

Hahnemühle German Etching® FineArt media

Printed on EPSON SureColor P9570

12-color archival pigment ink

Security Hologram Sticker

Certificate of Authenticity

Photo Matt

180 gsm · matt-coated paper

Premium heavyweight paper, produced in Japan, at the highest industry standards with very good stability of the printed images. Particularly suitable for printing photorealistic quality images with intense colours and uniform matt.

Katana Photo Matt 180

Printed on EPSON SureColor P9000

UltraChrome HD 8-Color pigment ink
Frequently asked questions
How long does it take to ship?

Shipping times depend on your location and the shipping method chosen during checkout.

Standard shipping within the EU usually takes 3-7 business days, while air shipping may take longer, up to 10 work days.

Since our prints are made on-demand, production times can vary. On average, it takes about 2-3 business days for production.

What materials are used?

We use high-quality materials to ensure the best possible results.

For fine art prints, we use 285 gsm German Etching Hahnemühle art paper.

Poster prints are typically printed on durable, 180 gsm heavyweight paper with a slight satin finish.
What sizes are available?

Our art prints come in various sizes to accommodate different needs and display options. 

Popular sizes include 20x14 inches, 28x20 inches, and 40x28 inches. 

These prints tend to be on the larger side and are compatible with most ready-to-use frames.
What is your return and refund policy?

We provide a 60-day, no-questions-asked return policy for all print products, unless otherwise specified on the item. To be eligible for an exchange or refund, the products must be in the same condition as when they were received.

If you wish to initiate a return or exchange, please contact us via email. For more comprehensive information, please visit our dedicated Return Policy page on our website
Do you ship internationally?

Yes, we offer international shipping to many countries worldwide.


However, please note that shipping times and customs procedures may vary.
Can I track my order?

Absolutely! Once your print is shipped, you will receive a shipping confirmation email with a tracking number. You can use this tracking number to monitor the progress of your shipment and estimate its arrival date.