Regular price
Sale price
$65.00 USD
Unit price
per
Special
Sold out
The story of Lamborghini Miura is as captivating as the car itself. In its third year of existence as a car manufacturer, Lamborghini presents the rolling chassis. It fascinates the entire automotive world. Lamborghini Miura is its first masterpiece in the Italian portfolio of supercars.
This Lamborghini Miura art print tells a captivating story
They say that Ferruccio Lamborghini decides to go in car manufacturing after an argument with Enzo Ferrari. Lamborghini asks for a few improvements on his Ferrari but Il Commendatore strongly denies that the car needs them. Ferrucio strikes back and decides to go his own way and create the perfect car.
The first Lamborghini cars are 350 GT and 400 GT. Just three years later, at the Geneva motor show, the public welcomes the rolling chassis of Miura. It takes over the automotive world like nothing before. This engineering masterpiece lays the foundations for the creation of beautiful and powerful cars. All of them possess racing pedigree and Hollywood patronage.
The designer of Lamborghini Miura is Marcello Gandini, a true celebrity in the world of automotive design. Although Miura is one of his early works, it is very mature. Customers pre-book the car production even before its completion. How can you resist the long, swooping bonnet and headlights with "eyelashes"? Or the door frames that resemble the horns of a bull?
Ferruccio Lamborghini achieves his goal to create more fascinating and better-handling cars even than Ferrari himself. The engineers push the engine right behind the passenger section and thus create more even weight distribution. This delivers almost perfect driving experience. It is the Miura that forces Enzo Ferrari to design his first mid-engine road-going cars.
View full details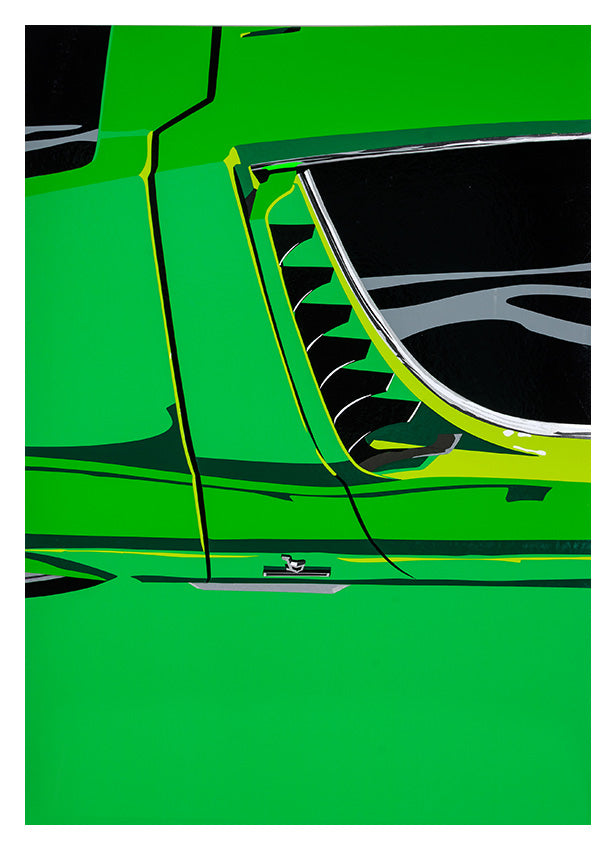 Simply Petrol car art
Fine art prints

285 gsm, 100% a-cellulose mould-made

Fine art prints are made on German Etching Hahnemühle traditional mould-made copperplate printing paper of highest quality.

The unique surface texture showcase the works of art in all their splendour with impressive three-dimensional effect and depth.

This paper is designed for FineArt applications.

Posters

180 gsm photo matt

The high-quality matt photo inkjet paper is particularly suitable for printing photorealistic quality images. The special coating guarantees high resolution and high friction resistance levels.
Frequently asked questions
How long does it take to ship?

Since our prints are made on-demand, production times can vary. On average, it takes about 2-3 business days for production.

Shipping times depend on your location and the shipping method chosen during checkout.

Standard shipping within EU usually takes 3-7 business days, while air shipping may take longer, up to 10 work days.
What materials are used?

We use high-quality materials to ensure the best possible results.

For fine art prints, we use 285 gsm German Etching Hahnemühle art paper.

Poster prints are typically printed on durable, 180 gsm heavyweight paper with a slight satin finish.
What sizes are available?

Our art prints come in various sizes to accommodate different needs and display options. Common sizes include 20x14 inches, 28x20 inches, 40x28 inches. It's fair to say our prints are on the bigger spectrums of prints offered.
What is your return and refund policy?

Wea 60-day, no questions asked return policy on all print products otherwise noted on the item. Their condition must be the same as received to qualify for an exchange or refund. To start an exchange or return, please email us.

Please refer to our dedicated Return Policy page on our website for more detailed information.
Do you ship internationally?

Yes, we offer international shipping to many countries worldwide.


However, please note that shipping times and customs procedures may vary.
Can I track my order?

Absolutely! Once your print is shipped, you will receive a shipping confirmation email with a tracking number. You can use this tracking number to monitor the progress of your shipment and estimate its arrival date.