Regular price
Sale price
$65.00 USD
Unit price
per
Special
Sold out
Monaco Grand Prix is among the oldest and most prestigious automotive racing events worldwide. Together with Indianapolis 500 and 24 Hours of Le Mans, it shapes the Triple Crown of Motorsports. In our humble opinion, it is probably the most spectacular of them.
Winners and titles
Monaco Grand Prix is extremely difficult because of the terrain elevation, tight corners, and the famous dark tunnel. The first competition takes place in 1929. William Grover-Williams with his dark green Bugatti Type 35B are the winners at the first-ever race. He manages to outrun Mercedes-Benz SSK with Rudolf Caracciola behind the wheel.
Ayrton Senna is still the most successful pilot on the streets of Monte Carlo with six wins, five of them achieved consecutively between 1989 and 1993. Graham Hill, the man who starts driving at the very late age of 24 has five victories and so does Michael Schumacher.
McLaren is the most successful team in Monaco Grand Prix with 15 victories in total. Sorry, Ferrari and Mercedes, we know you want this so badly but the numbers are not in your favour.
If it wasn't not luxurious, it wouldn't be in Monaco
Because of its narrow track, slow average speeds and strict regulations, Monaco F1 competitions often finish with unexpected results. The luxury to watch the competition from a rooftop swimming pool or on a yacht turns Monaco Grand Prix into (even more) exclusive motorsports event.
It is true that the Monaco Grand Prix is a motorsports institution largely thanks to the Monaco Royal Family. We owe a great deal to Louis II who supports its first edition and also to Rainier III his son Albert II who are noted car enthusiasts. The Grimaldi family leaves an indelible imprint on the European automotive culture.
View full details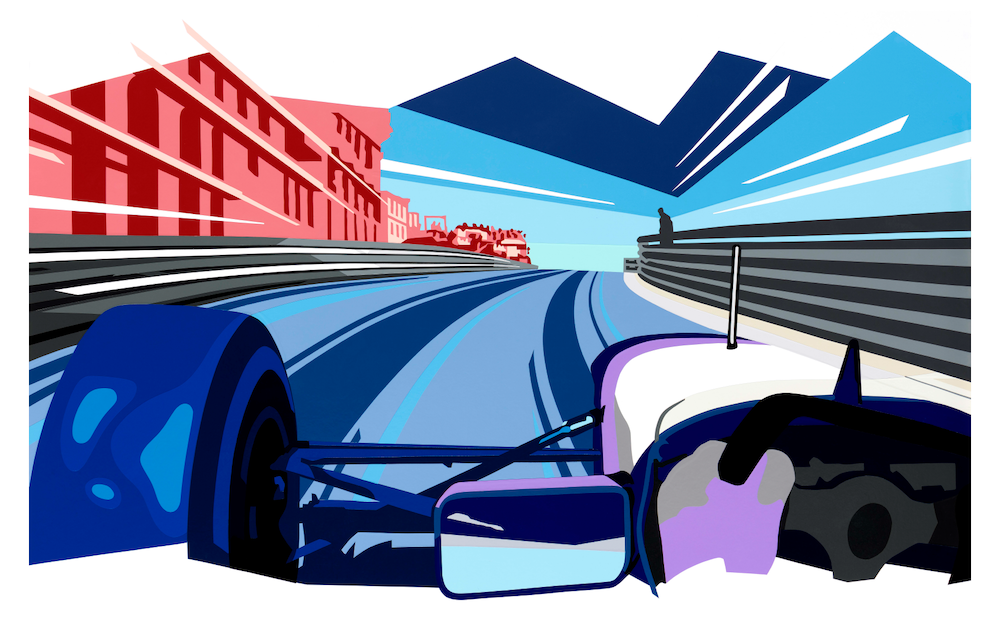 Simply Petrol car art
Fine art prints

285 gsm, 100% a-cellulose mould-made

Fine art prints are made on German Etching Hahnemühle traditional mould-made copperplate printing paper of highest quality.

The unique surface texture showcase the works of art in all their splendour with impressive three-dimensional effect and depth.

This paper is designed for FineArt applications.

Posters

180 gsm photo matt

The high-quality matt photo inkjet paper is particularly suitable for printing photorealistic quality images. The special coating guarantees high resolution and high friction resistance levels.
Frequently asked questions
How long does it take to ship?

Since our prints are made on-demand, production times can vary. On average, it takes about 2-3 business days for production.

Shipping times depend on your location and the shipping method chosen during checkout.

Standard shipping within EU usually takes 3-7 business days, while air shipping may take longer, up to 10 work days.
What materials are used?

We use high-quality materials to ensure the best possible results.

For fine art prints, we use 285 gsm German Etching Hahnemühle art paper.

Poster prints are typically printed on durable, 180 gsm heavyweight paper with a slight satin finish.
What sizes are available?

Our art prints come in various sizes to accommodate different needs and display options. Common sizes include 20x14 inches, 28x20 inches, 40x28 inches. It's fair to say our prints are on the bigger spectrums of prints offered.
What is your return and refund policy?

Wea 60-day, no questions asked return policy on all print products otherwise noted on the item. Their condition must be the same as received to qualify for an exchange or refund. To start an exchange or return, please email us.

Please refer to our dedicated Return Policy page on our website for more detailed information.
Do you ship internationally?

Yes, we offer international shipping to many countries worldwide.


However, please note that shipping times and customs procedures may vary.
Can I track my order?

Absolutely! Once your print is shipped, you will receive a shipping confirmation email with a tracking number. You can use this tracking number to monitor the progress of your shipment and estimate its arrival date.