Regular price
Sale price
$30.00 USD
Unit price
per
Special
Sold out
Imagine you just have won Oscar for your role in To Kill a Mockingbird movie for your impersonation of Atticus Finch. Imagine you are close friend with Audrey Hepburn and you introduce her to her first husband. Imagine you played in the screen versions of a classic like Moby Dick and worked along with Laurence Olivier and Martin Scorsese. Imagine you were named the greatest film hero of the past 100 years by the American Film Institute. Then you approach your car and this flying B mascot is what you see.
Probably this is what Gregory Peck saw every time before he opened the door of his own Bentley S2. Just like many more rich and famous people all over the world.
In late 50`s and early 60`s, Bentley produced less than 2300 numbers of their S2 model. It was faster than its S1 predecessor because of the new all aluminum V8 engine, replacing the straight 6 power plant. Even though Rolls-Royce wasn't vocal on their power outputs, it was capable of 230 hp. Combined with a sleek body that might be produced by coachbuilders like Mulliner, Hooper and Park Ward, this car became synonymous with effortless high speed cruising. We feel it like 'Gentleman Express'.
Now you can own piece of this British automotive beauty as photo art, shot by David Pisani with a camera from the very same era and precisely issued by Simply Petrol.
View full details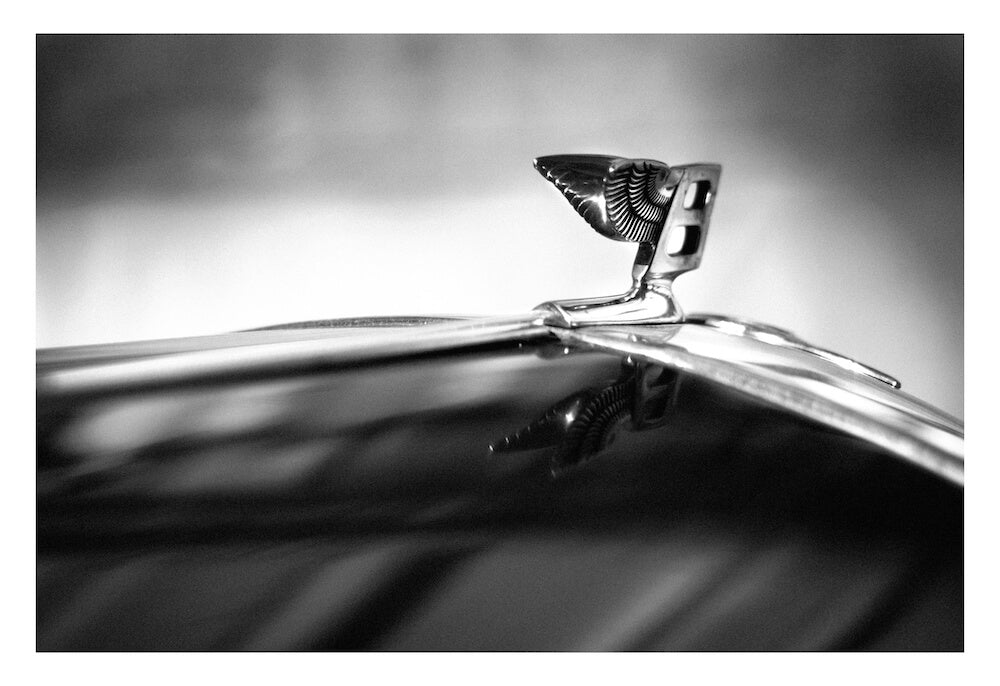 Simply Petrol car art
Fine art prints

285 gsm, 100% a-cellulose mould-made

Fine art prints are made on German Etching Hahnemühle traditional mould-made copperplate printing paper of highest quality.

The unique surface texture showcase the works of art in all their splendour with impressive three-dimensional effect and depth.

This paper is designed for FineArt applications.

Posters

180 gsm photo matt

The high-quality matt photo inkjet paper is particularly suitable for printing photorealistic quality images. The special coating guarantees high resolution and high friction resistance levels.
Frequently asked questions
How long does it take to ship?

Since our prints are made on-demand, production times can vary. On average, it takes about 2-3 business days for production.

Shipping times depend on your location and the shipping method chosen during checkout.

Standard shipping within EU usually takes 3-7 business days, while air shipping may take longer, up to 10 work days.
What materials are used?

We use high-quality materials to ensure the best possible results.

For fine art prints, we use 285 gsm German Etching Hahnemühle art paper.

Poster prints are typically printed on durable, 180 gsm heavyweight paper with a slight satin finish.
What sizes are available?

Our art prints come in various sizes to accommodate different needs and display options. Common sizes include 20x14 inches, 28x20 inches, 40x28 inches. It's fair to say our prints are on the bigger spectrums of prints offered.
What is your return and refund policy?

Wea 60-day, no questions asked return policy on all print products otherwise noted on the item. Their condition must be the same as received to qualify for an exchange or refund. To start an exchange or return, please email us.

Please refer to our dedicated Return Policy page on our website for more detailed information.
Do you ship internationally?

Yes, we offer international shipping to many countries worldwide.


However, please note that shipping times and customs procedures may vary.
Can I track my order?

Absolutely! Once your print is shipped, you will receive a shipping confirmation email with a tracking number. You can use this tracking number to monitor the progress of your shipment and estimate its arrival date.