Regular price
Sale price
$30.00 USD
Unit price
per
Special
Sold out
This photo artwork by David Pisani is telling so much by focusing on a simple group of details. Maserati Tipo 63 Birdcage is evolution of Tipo 61 and Tipo 62 which were with front engine layout. Tipo 63 switch to mid-engine layout and became one of the first Italian racing cars with this type of setting.
Most interesting in Birdcage series of Maserati racing cars is their tubular spaceframe chassis, designed by Giulio Alfieri. He relied on complex frame made of short and small diameter tubes welded together in something suspiciously similar to birdcage. Creating something like this makes you pretty good at space combinatorics and linear algebra. Applying such high level mathematics in Maserati Tipo 61, 62, 63 and 64 led to extremely light chassis and very small vehicle. In addition, it is easily modified. This way Alfieri`s team of engineers succeed to perform switching the engine layout from front to mid in a relatively tight schedule. Because of this, first numbers of Tipo 63 were equipped with 2-litre, 4 cylinder engines. Later it was replaced with newly developed V12 which was aimed for Le Mans win.
Even though Maserati Tipo 63 was advanced in many aspects, it wasn't truly successful racing cars because of reliability issues, mainly drivetrain. The Tipo 63 Birdcage's were constructed for Cunningham, Serenissima, and Camoradi teams and driven by famous drivers such as Bruce McLaren, Walt Hansgen, Stirling Moss and Masten Gregory. This Maserati racing car is best remembered for its fourth place finish at the 24 Hours of Le Mans, driven by team Cunningham.
View full details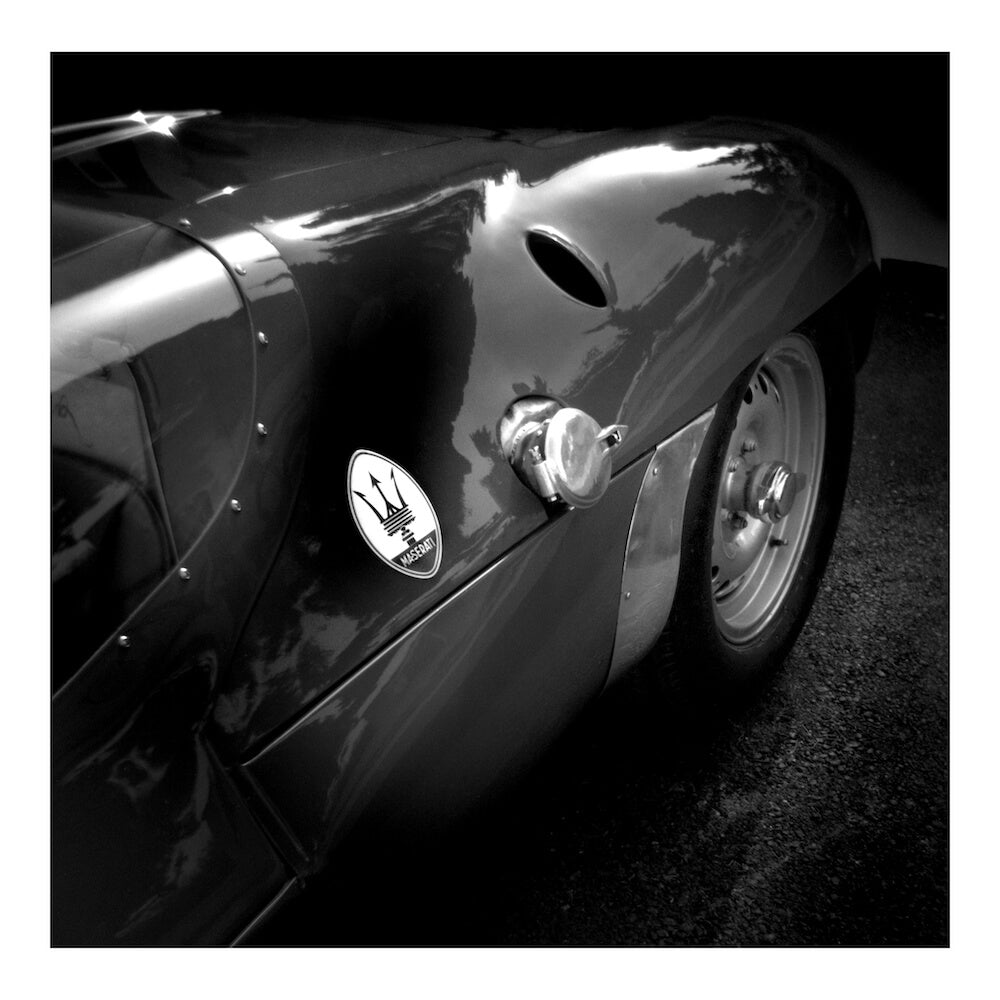 Simply Petrol car art
Fine art prints

285 gsm, 100% a-cellulose mould-made

Fine art prints are made on German Etching Hahnemühle traditional mould-made copperplate printing paper of highest quality.

The unique surface texture showcase the works of art in all their splendour with impressive three-dimensional effect and depth.

This paper is designed for FineArt applications.

Posters

180 gsm photo matt

The high-quality matt photo inkjet paper is particularly suitable for printing photorealistic quality images. The special coating guarantees high resolution and high friction resistance levels.
Frequently asked questions
How long does it take to ship?

Since our prints are made on-demand, production times can vary. On average, it takes about 2-3 business days for production.

Shipping times depend on your location and the shipping method chosen during checkout.

Standard shipping within EU usually takes 3-7 business days, while air shipping may take longer, up to 10 work days.
What materials are used?

We use high-quality materials to ensure the best possible results.

For fine art prints, we use 285 gsm German Etching Hahnemühle art paper.

Poster prints are typically printed on durable, 180 gsm heavyweight paper with a slight satin finish.
What sizes are available?

Our art prints come in various sizes to accommodate different needs and display options. Common sizes include 20x14 inches, 28x20 inches, 40x28 inches. It's fair to say our prints are on the bigger spectrums of prints offered.
What is your return and refund policy?

Wea 60-day, no questions asked return policy on all print products otherwise noted on the item. Their condition must be the same as received to qualify for an exchange or refund. To start an exchange or return, please email us.

Please refer to our dedicated Return Policy page on our website for more detailed information.
Do you ship internationally?

Yes, we offer international shipping to many countries worldwide.


However, please note that shipping times and customs procedures may vary.
Can I track my order?

Absolutely! Once your print is shipped, you will receive a shipping confirmation email with a tracking number. You can use this tracking number to monitor the progress of your shipment and estimate its arrival date.