Regular price
Sale price
$30.00 USD
Unit price
per
Special
Sold out
The Silver Shadow stands as an illustrious emblem of Rolls Royce, arguably claiming the title of the brand's most renowned creation. Its production volume surpasses that of all other models from the esteemed British manufacturer. This captivating photo art print, skillfully crafted by David Pisani, pays homage to this opulent vehicle while placing a spotlight on the iconic Spirit of Ecstasy – a delicate figurine adorning the radiator grille.
A Timeless Love Story
The Rolls Royce mascot has an interesting backstory. The sculptor behind the Spirit of Ecstasy is Charles Sykes, and it represents the mistress of the second Baron Montagu of Beaulieu. 
When Baron Montagu wanted a mascot for his personal Rolls Royce Silver Ghost, he asked his friend Charles Sykes. He chose Eleanor as the model. Her figure, with a flowing robe and fingers on her lips, symbolizes a secret love story.
Later, in 1911, Sykes was commissioned again. Claude Johnson, the director of Rolls Royce, wanted a unique mascot. Many people were putting inappropriate ornaments on their cars. Sykes created a variation of the Baron Montagu's figurine, known as the Spirit of Ecstasy. He described it as "a graceful little goddess, the Spirit of Ecstasy, who loves road travel and is perched on the front of a Rolls-Royce car, enjoying the fresh air and the fluttering of her drapery."
Since then, almost every Rolls Royce has the Spirit of Ecstasy on its neoclassical radiator grille. David Pisani's camera beautifully captures the elegance of the Rolls Royce Silver Shadow. You can own this exquisite car art as a photo print - order now at Simply Petrol.
View full details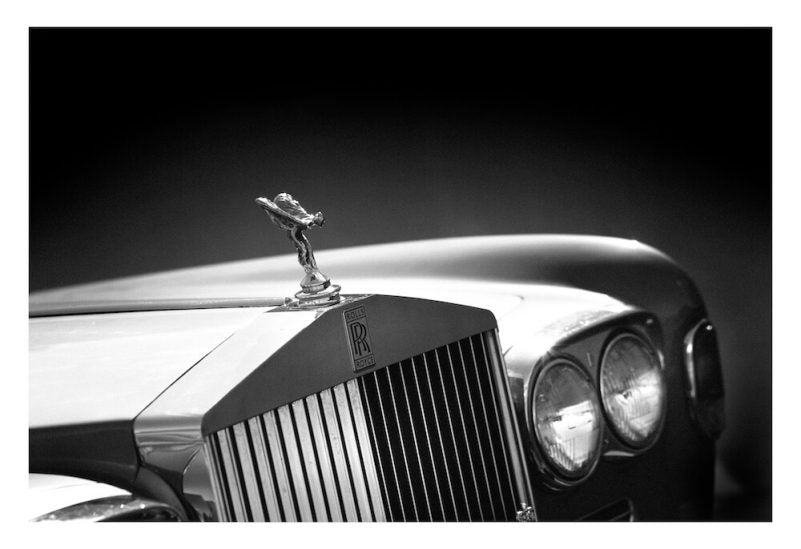 Simply Petrol car art
Fine art prints

285 gsm, 100% a-cellulose mould-made

Fine art prints are made on German Etching Hahnemühle traditional mould-made copperplate printing paper of highest quality.

The unique surface texture showcase the works of art in all their splendour with impressive three-dimensional effect and depth.

This paper is designed for FineArt applications.

Posters

180 gsm photo matt

The high-quality matt photo inkjet paper is particularly suitable for printing photorealistic quality images. The special coating guarantees high resolution and high friction resistance levels.
Frequently asked questions
How long does it take to ship?

Since our prints are made on-demand, production times can vary. On average, it takes about 2-3 business days for production.

Shipping times depend on your location and the shipping method chosen during checkout.

Standard shipping within EU usually takes 3-7 business days, while air shipping may take longer, up to 10 work days.
What materials are used?

We use high-quality materials to ensure the best possible results.

For fine art prints, we use 285 gsm German Etching Hahnemühle art paper.

Poster prints are typically printed on durable, 180 gsm heavyweight paper with a slight satin finish.
What sizes are available?

Our art prints come in various sizes to accommodate different needs and display options. Common sizes include 20x14 inches, 28x20 inches, 40x28 inches. It's fair to say our prints are on the bigger spectrums of prints offered.
What is your return and refund policy?

Wea 60-day, no questions asked return policy on all print products otherwise noted on the item. Their condition must be the same as received to qualify for an exchange or refund. To start an exchange or return, please email us.

Please refer to our dedicated Return Policy page on our website for more detailed information.
Do you ship internationally?

Yes, we offer international shipping to many countries worldwide.


However, please note that shipping times and customs procedures may vary.
Can I track my order?

Absolutely! Once your print is shipped, you will receive a shipping confirmation email with a tracking number. You can use this tracking number to monitor the progress of your shipment and estimate its arrival date.