Regular price
Sale price
$30.00 USD
Unit price
per
Special
Sold out
One of the most successful racing cars, period. This is Bugatti T35 and we are happy to present you its eternal beauty as photo art print, created by David Pisani who managed to capture at its best arguably the quintessential Vintage-era sports car.
1920`s was pretty interesting era. The WWI is over, national economies were boosting, the jazz blossomed and Art Deco faced its peak. This was the time when automotive manufacturers proved the abilities of their cars on the race track. As well as Ettore Bugatti who established an unrivalled reputation for building outstanding cars with the help of this very Bugatti T35.
The car was relatively small and light with low center of gravity. This made it really fast in the corners and T35 was shockingly fast at short tracks. The engine was state of the art with 3 valves for every of the 8th cylinders, positioned in a row. Improved lubrication system and single overhead camshaft for the valves was among the advanced technical solutions. All of this was set up at conventional chassis with leaf springs at front and quarter ellipticals at the rear combined with alloy wheels for the first time.
Bugatti T35 had numerous versions which were extremely successful by winning more than 1000 races and set 47 records. With this car, Bugatti won the Targa Florio for 5 consecutive years, from 1925 to 1929. And it is the last racing car produced at the Molsheim factory. Gone but not forgotten.
Now you have the chance to own this majestic piece of pure aesthetics and racing history as beautiful photo art print, created by David Pisani and produced by Simply Petrol.
View full details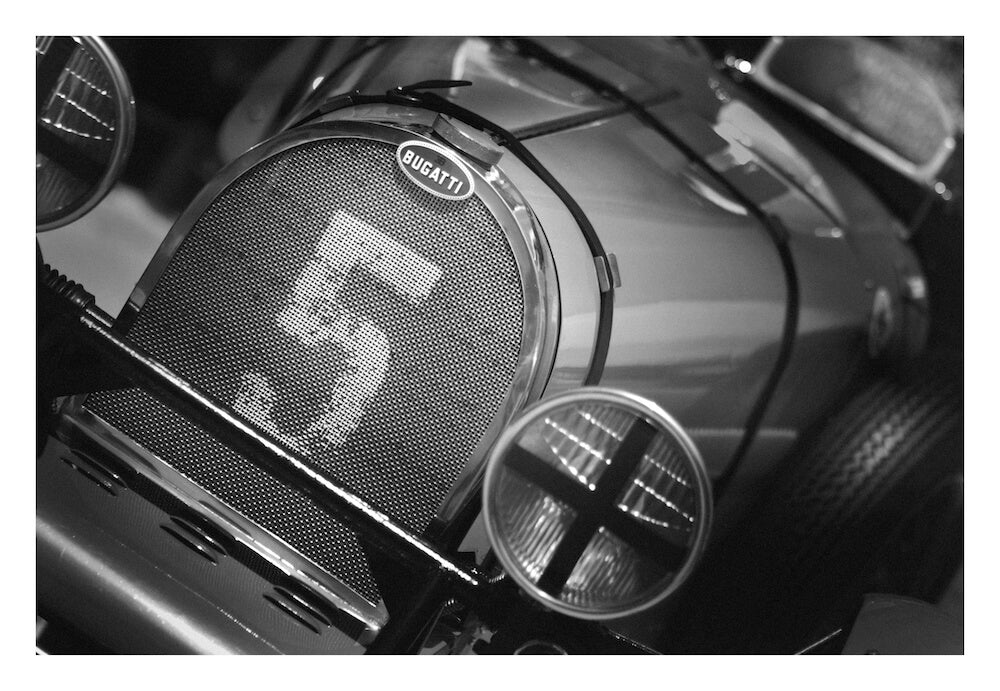 Simply Petrol car art
Fine art prints

285 gsm, 100% a-cellulose mould-made

Fine art prints are made on German Etching Hahnemühle traditional mould-made copperplate printing paper of highest quality.

The unique surface texture showcase the works of art in all their splendour with impressive three-dimensional effect and depth.

This paper is designed for FineArt applications.

Posters

180 gsm photo matt

The high-quality matt photo inkjet paper is particularly suitable for printing photorealistic quality images. The special coating guarantees high resolution and high friction resistance levels.
Frequently asked questions
How long does it take to ship?

Since our prints are made on-demand, production times can vary. On average, it takes about 2-3 business days for production.

Shipping times depend on your location and the shipping method chosen during checkout.

Standard shipping within EU usually takes 3-7 business days, while air shipping may take longer, up to 10 work days.
What materials are used?

We use high-quality materials to ensure the best possible results.

For fine art prints, we use 285 gsm German Etching Hahnemühle art paper.

Poster prints are typically printed on durable, 180 gsm heavyweight paper with a slight satin finish.
What sizes are available?

Our art prints come in various sizes to accommodate different needs and display options. Common sizes include 20x14 inches, 28x20 inches, 40x28 inches. It's fair to say our prints are on the bigger spectrums of prints offered.
What is your return and refund policy?

Wea 60-day, no questions asked return policy on all print products otherwise noted on the item. Their condition must be the same as received to qualify for an exchange or refund. To start an exchange or return, please email us.

Please refer to our dedicated Return Policy page on our website for more detailed information.
Do you ship internationally?

Yes, we offer international shipping to many countries worldwide.


However, please note that shipping times and customs procedures may vary.
Can I track my order?

Absolutely! Once your print is shipped, you will receive a shipping confirmation email with a tracking number. You can use this tracking number to monitor the progress of your shipment and estimate its arrival date.